Que Pasa
Blue marlin arrived early at East Cape; the Dottie B delivered the first blue to the scale at Buenavista Beach Resort Wednesday amid rumors of others spotted and/or lost this week.

Coronado Islands
The Island area remains on the slow side as the bite improves north of the border.

The weather-side of North Island, the Middle Grounds, and the Ribbon Kelp continues to hold at least some yellows along with barracuda on the latter spot.

Bluefin tuna have been seen close to the Islands and a few have been caught and released along the southern end of North Island as well as along the weather side of South Island. ...www.fishdope.com

Farther down the coast at Ensenada …No Report…Edgar Sanchez, Coral Marine Store


At San Quintin,

Excellent fishing ... limits for three of the anglers, good-grade slugs. Rapalas...240....iron.....and home by 11:00 a.m. Come see us at Don Eddies Landing -- hotel/restaurant/bar/RV hookups. …Kelly Catain

Yellowtail are back on the chew after a month or so of fairly slow fishing. The water has cleaned up and warmed up, too. A number of pangas scored limits of 10- to 18-pound yellowtail trolling Rapalas out on the breakers and the 15 Fathom Spot...www.fishdope.com

Bahia del Los Angeles
Great day with Guillermo Galvan after a slow start with only one yellowtail inside the Bay. When we left the Bay and headed to the "Candelarias," we caught over 40 yellowtails weighing in at about 35 pounds each…Oscar

http://www.bdoutdoors.com/forums/threads/great-fishing-at-bola.585696/

More info: http://www.bdoutdoors.com/forums/threads/joels-sportfishing-bola.585400/

Bahia Ascensión
No Report…Shari Bondy

La Bocana
No Report …Juanchy Angular

Mulegé
The extended weather report has changed slightly. Friday, May 29th, the high is lowered to 98 with 6 to 12 mph winds. Saturday the temperature raised to 104 with 2 to 8 mph winds. The nearest cloud is in San Diego!

VALET PARKING at the dock from 4:45 a.m. until 6 p.m. We have one launch site!! #1 Hotel Serenidad has agreed to allow boat and trailer parking inside their secure wall for the tournament. You can utilize this service from Wednesday, captains meeting, until Sunday after the fish feast.

This may save the townies and Loma Azul folks some grief. There will be three or four dock helpers. As soon as you hit the launch area, they will park your truck and trailer on the South 40 or they will hold your boat away from the launch area while you park. YOUR CALL!

Obviously the idea is to keep the traffic moving. The weigh-in is 4:00 p.m. sharp -- NO EXCEPTIONS!!

The big hand is on 12 and the small hand is on 4! We do not shoot the 3rd late guy; we shoot the 1st one.

Claudia's Tienda is a few doors up from the firehouse toward town. With 4 days left to register and 7 days until we fish, everything is pointing toward a perfect outing.

Tell your friends and neighbors [if you have any], word is being circulated that a 31-pound dorado was taken Thursday. The spin starts here. This fish should have ended up in a beauty contest, not a skillet!
Loreto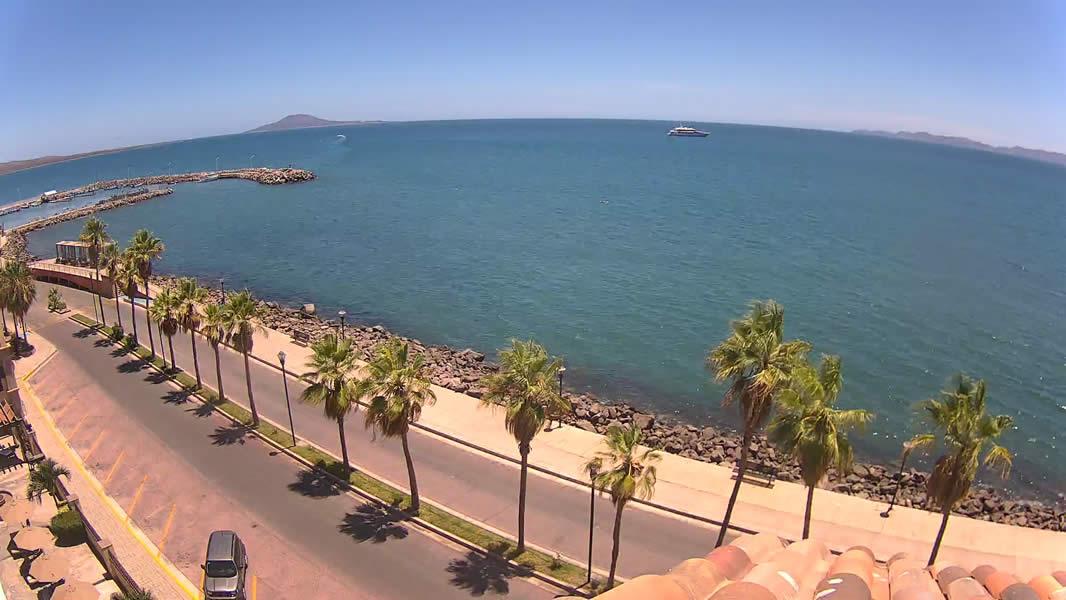 Our fishing trip found a few big yellowtail out at the "50 spot" north of Carmen's Punta Lobo. No dorado 'cause we're working the high spots!
Photo: "Gali" the boatyard magician and captains Arturo and "Marino" with the catch of the day....caught on live jurelitos at the "50 spot".
It is a little early in the season for the focus to be on the warm water species. Reports are frequent that both marlin and dorado have been spotted tailing and jumping.

To my delight, while waiting for check out, I was told that "Jigo," one of our local captains caught two medium-sized dorado yesterday. That's got me wondering and hoping that this will be a good year for the annual dorado summer run.

There have been a few hot catches of Pacific dog snapper up the coast north of San Bruno. Most of the fish were in the 8- to 10-pound range with a couple of 15-pound fish. Cabrilla -- in the same-size class -- were landed in the same general area.

La Cholla continues to be good for the bottom fish with sardina being this week's best bait. Cabrilla, reds, trigger and a few firecracker-sized yellows were all in the count. The south side of Carmen Island was reporting the same fish in their count.

Off the light house "el faro" and farther south at "el bajo," the bait catching has been fair with small green mackerel and a few green jacks mixed in.

Cabrilla and small yellowtail have been hitting at "Six Mile Reef" and south at "marcealo." Both irons and bait have been working equally well! …Rick Hill, Pinchy Sportfishing


La Paz
Captain Jorge from the Tailhunter Fleet with Allen Burgess from Kansas shown with a big rooster fish caught and released near Punta Perrico. Just after this, he hooked a blue marlin estimated at 250 pounds on 30-pound test and a spinning rod. He fought the fish for 4 hours before releasing it next to the panga. There are no photos because everyone's cell phones and cameras had run out of batteries and memory by the time the fish was next to the boat

LAS ARENAS / MUERTOS BAY
Donna Drucker from Glendale, Arizona has fished with Tailhunter many times over the years, but had never caught a wahoo until this week. She caught several including this one with Captain Victor
Whatever happened was epic. Two areas. One at the south end of Cerralvo Island on the high spot and then the other right outside Bahia de Los Muertos just off the rocks a hundred yards! Small mackerel…baby sardina…trolled Rapalas…they got bit. A few days were better than others, but there were wahoo everyday this week.
These fish were running 20-50 pounds and the crazier part was that some of the rookie guys didn't realize the prize they had caught…and GAVE AWAY ALMOST ALL THEIR FISH TO CAPTAINS OR ANYONE ELSE WHO WANTED A PIECE!!! It was nuts.
In addition to the wahoo…well…we got the rooster fish back in the fold. Not as good as its as two or three weeks ago, but at least we got some to the boat. The fish ran 15-45 pounds on the average and all got released. But, for a lot of guys (and gals), it was one to check off the bucket list.
LA PAZ
What we had this week was some really really great inshore action along the reefs and islands. Some sizable pargo (yellow snapper and barred pargo) and some good-sized cabrilla plus some late-season sierra provided some solid action most days. There were also some rooster fish caught and released and we had a few marlin hookups as well with fish getting released or breaking off. There's some dorado out there, but not in the numbers we'd expect this time of year.…Jonathan Roldan, Tailhunter International
Neil scored a nice dorado and check out those shirts! Team Scorpion looking good!!! — with Arturo Silva and Jorge Antonio Castro Cosio.…Scorpion Sportfishing and El Regalo Sportfishing


Pargo and More: Good to very good bottom fishing, with some quality pargo being taken…Rancho Leonero
This week was a good one at East Cape. With more than 30 boats going out each day, the fleet was able to cover a lot of water and find the schools. For the last two weeks we saw a steady stream of tuna almost every day. Most were football-size tuna, but we did see a few up to 40-pounds.

The dorado were much larger with a few in the 30-pound class, along with quite a few striped marlin; some boats releasing up to six in a day.

To recap: The fleet this week landed tuna, dorado, striped marlin, sailfish, pargo, jacks, trigger fish, white bonita, roosters and wahoo. …Eddie Damalu Van Warmer Resorts
Guide Merry Waugh, with Barbara Klutinis, rooster fish, Omar (don't know his last name). Staying at Buenavista Beach Resort, Photo by Terry Thomas.
Beach fishing advice:

http://www.bdoutdoors.com/forums/threads/gordo-banks-tackle-lure-advice-or-los-barriles.584917/ …Buenavista Beach Resort

San Jose del Cabo
Reports on Tuesday were a bit better. I spoke to a few guys from San Diego who caught several yellowfin tuna and another couple of guys who caught both a wahoo and a dorado. I figured I would try with Gordo Banks again and go on his Parker (same boat the guys from SD chartered). They told me the tuna hit on squid so I bought 10 kilos at Mega Market and met up at the dock at 6:15 the next morning. Still slow, but managed to land one tuna on the squid and a wahoo on the live bait…Richard

http://www.bdoutdoors.com/forums/threads/gordo-bankspangas-boat-kika-captain-jorge.585080/
Striped marlin has been the most common species found offshore, straight offshore of San Jose del Cabo, anywhere from 3 to 15 miles from shore, concentrations of stripers are being found, free jumping and at times feeding on balled up bait sources. At times the marlin proved very finicky, though with persistence anglers were hooking up, many boats accounted for one or two marlin.

Wahoo were fairly active throughout this past week, most of the time found near shore, off of Palmilla and north to Cardon and La Fortuna, anglers using lures and baits were accounted for as many as two or three wahoo in their combined catches, weights ranged up to 40 lb. Encouraging to have so many wahoo being reportedly sighted, even though the numbers of fish actually landed have been limited.

Yellowfin tuna bite was limited to just one or two tuna here or there, many of these hit of strips of squid, some were hooked on small hoochies and other on chihuil or caballito, sizes averaged 20 to 40 lb. Lots of yellowfin in the area, but these fish are just not that eager to strike on what the anglers are able to offer.

A handful of amberjack, cabrilla, yellow snapper and triggerfish were accounted for, no significant numbers though, with the areas of La Fortuna and Iman being the best bet for this. If the currents slacks on any given day this action can produce some quality catches.

Along the shore only a few sierra being caught, some larger sized roosterfish are now moving in, we saw roosterfish up to 40 lb. landed and of course there are jack crevalle in the mix as well…Eric Brictson, Gordo Banks Pangas.


Los Cabos
Very few dorado were caught this week -- the only exception was Tracy Ann with four on the small side at around 12 pounds caught at Los Arcos; they also managed to release two large striped marlin, estimated at 160- and 180-pounds at the 95 Spot for the Eppes family from Fairfield, Texas. There were no real numbers on other small game fish, but a few sierra, grouper, skipjacks, jack crevalle, triggerfish and snappers were caught. …Tracy Ehrenberg, Pisces Sportfishing

The stripers are starting to get frisky and much more eager to chase the baits and want to bite and even better they are scattered throughout the area from just a couple miles out of the harbor and to the new area hot-spot at the 1150 Fathom Spot.

Cabo Climate: It was a partly cloudy week with intermittent sunshine -- overall pleasant days for fishing. Air temps varied from 67 degrees at night to 82 degrees daytime highs, with a 25% humidity level.

Sea Conditions: Pacific side is cooling off rapidly at 72 to 73 degrees, rising to 76 degrees at Cabo Falso and gently rising to 77-78 degrees at the 95 Fathom Spot and 80 to 81 degrees at the 1150 Fathom Spot and on up to Los Frailes. Surface breezes are mostly from the westerly directions and ranged from very light to 14 mph. …Larry Edwards, Cortez Charters