Que Pasa
Just finished driving the bad stretch of road from Chapala (north of Guerrero Negro) over to the coast of the Sea of Cortez and then up north thru San Felipe to the U.S. border. There are essentially 30 kilometers of 'bad/old road' from the turn-off to where good highway begins again. The second half of these 30 kilos is particularly slow going and one should probably figure on an hour or a bit more for traveling this whole stretch, and even longer if you're driving an RV. Don't know as I'd want to drive a large RV over this stretch of road. Gas is available on the coast about 30 – 40 miles past the end of the bad stretch of road. Crossing the border at San Luis heading towards Yuma, AZ took us about 45 minutes…BPE
Coronado Islands
The water is off-color currently.
Best fishing at the Islands right now is for bonito. Some of these are true whoppers, too. Most are in the 5- to 10-pound class with a few really big fish up to around 17- to 18 pounds.
The 'bones' are roaming around in schools and can be located by trolling feathers or Rapalas while watching out for breaking fish and birds.
There are some showing at the Lower 9 just to the north of North Island, at North Island both at Pukey and the Keyhole, The Middle Grounds, the Gun Site area and along the lee side of South Island at the Ribbon Kelp and South Kelp.
There are some yellowtail around but not many and the quality isn't very good either. These are in the same areas as the bonito and in some cases mixed with them.
No barracuda for about a week now. They could reappear at any moment. …Fishdope.com
Ensenada
This is John Wick with a nice bluefin tuna that he caught heading out towards the Airplane Bank -- using his down riggers was the technique to get this mini cow.

Weather had choppy seas and lots of wind!! It wasn't a nice ride for fishermen this weekend..

But the Newport to Ensenada sailing race didn't think the weather was bad for them; just the opposite -- it was great!! Very fast race on this edition and lots of fun! ...Marina Coral Store

When the wind isn't blowing the yellowtail are coming up to the surface and breezing along. No particular direction, but rather just cruising around.
Guys are scoring them on the surface iron once you work your boat around in front of the school and you cast to them.
Running up on top of them or casting behind them is a waste of time…Fishdope.com
San Quintín
The first day we had beautiful weather but the yellows weren't very active. We managed to troll up two but didn't see much activity and couldn't get any on yo-yo jigs so we went to San Martin Island for calicos. Using a mixture of plastics and stick bait cast tight against the rocks, we were able to pick off some quality fish. …Dan

http://www.bdoutdoors.com/forums/th...cos-with-capt-juan-in-sq.623801/#post-4075694
Birthday Bending!!! Yeeewwwwww . . . 48 years — with Cristian Hernandez. …Captain Kelly Catian

Bahia de Los Angeles
I caught good bait fishing with Richard O'Connell and then caught a bunch of yellowtail on jigs on the Big Island. …Joel Prieto Ceseña
Bahía Ascensión
The abalone evaluation continues. It has been hampered by big swells but is nearly done. The fishermen are ready to begin the commercial harvest which lasts a couple months, depending on weather.

What does the evaluation do, Shari?

The fishermen take samples and a biologist takes tissue samples, measures and weighs them and they count how many are in an area. All this data helps keep track of growth and the health of the species and determines the quotas which are very low, to ensure sustainability of this valuable product.

The fishing Cooperativeas carry out evaluations every few months to keep tabs on the abalone here; it is one of the few places left in the world that has a wild abalone fishery! …Shari Bondy
La Bocana
Juanchys Aguilar has made a tremendous effort to educate locals regarding the management of grouper. Many of La Bocana, BCS have adopted the 'release of grouper' program and are examples of conservation for Mexico and the world, so now in the estuary, anglers can capture and release many small groupers, although in open waters they are not so abundant, because some members of the cooperative and pseudo-fishermen refuse to adopt this project and release the grouper! ...Juanchys Aguilar
Mulege
Mark Burbey, Buena Ventura

Loreto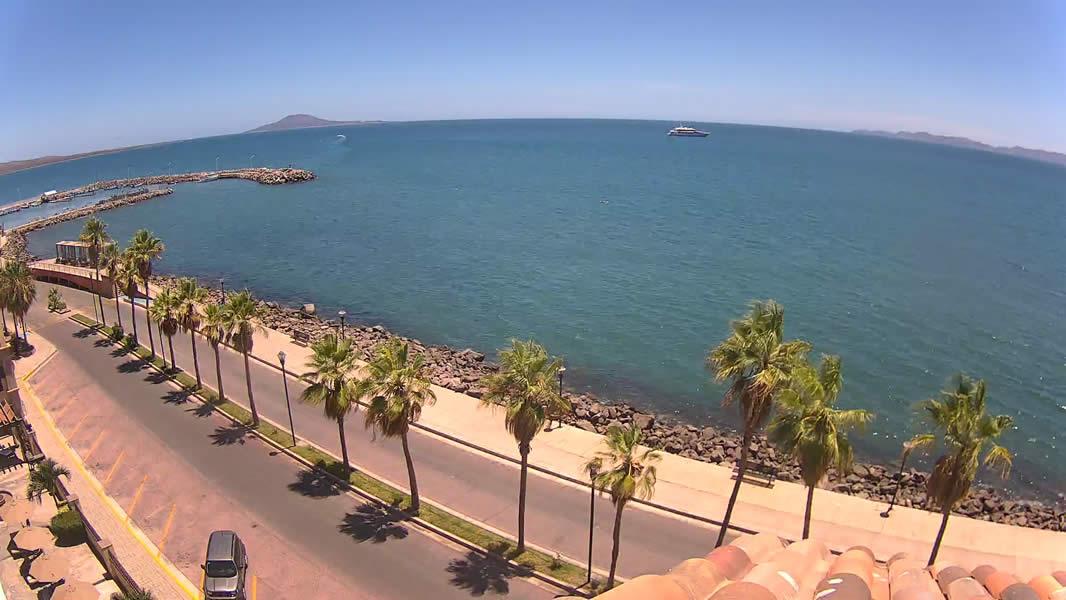 Still no yellowtail but I caught a 14-pound cabrilla. …Chris Wheaton

Fishing has been a challenge this past week for most of the Loreto boats.

With the winds cooperating more kindly, the captains have focused on the farther north spots like Pulpito and Puerto Almeja.

Live bait had been the effective weapon for good catches of yellowtail and cabrilla.

This week things have switched around and I'll have to pull out the old "full moon" excuse.

Our multi-generation bait-catching fishermen swear by the problems caused by the bright light of the full moon, but they shy away from connecting the behavior of the bigger fish to the moon.

Compounding our bait-catching problem has been the arrival of several sea lions inside the Marina. This had been our bait source (jurelito) for the past few week but a couple of visits from the "lobos" has thinned out that option.

Wednesday's results will give you an idea of the average day this past week:

Half of Loreto's fishing boats made the trek to the south to check out the luck at Six Mile Reef and Punta Baja. I saw downriggers, bottom rigs and iron all being worked. With only a few yellows caught we headed off to hit our other favorite sites.

You know it is a tough day when you are halfway to the next spot and you pass a few boats leaving that destination headed for the spot you just left!

Putting it simply, out of thirty boats fishing there were only about ten yellowtail caught.

Our boat had a dozen strong mackerel and our catch amounted to six triggerfish and one pinto bass!

Looks like a couple of days of wind will allow us to regroup and get the tears out of our eyes and back to the ever cranky ocean! …Rick Hill, Pinchy Sportfishing

Magdalena Bay
No report. ...Bob Hoyt
La Paz
Randy tagged the first rooster fish of the year today! Thanks to Gary C Graham for being the Baja supporter for Grays for providing the tag program.
The whole gang is getting their rooster checked off. We see blowups and we get follows -- even a few takes that are spit out immediately. And we wait. I feel good that we have tagged and released 15 good-size roosters this week. And everyone has fought them. ...Gary Bulla

No Report. …Jonathan Roldan, Tailhunter

East Cape
Fishing on the East Cape this week was a bit inconsistent but at times great. Temperatures are great and it is starting to look more like summer and less like spring. Seems like fewer and fewer windy days this past week.

Wahoo were found earlier in the week. One day we encountered a school on the banks which yielded three nice wahoo up to 35 pounds -- mostly caught on Rapalas which have been killer for the Scorpion Sportfishing team…Matt Clifton

http://www.bdoutdoors.com/forums/th...ape-report-april-24-2016.623873/#post-4077511
http://www.bdoutdoors.com/forums/threads/2016-dorado-shoot-out.624106/
Fishing is definitely showing signs of improvement early in the season. Only a few boats have been going out each day and they have had some success these last few days. The main specie has been striped marlin and sailfish, but the last two days we started to see some yellowfin tuna in the 20- to 30-pound range and some small-to-medium size dorado. …Anibal Miranda, Van Wormer Resorts

http://www.bdoutdoors.com/forums/threads/east-cape-fishing-from-palmas-de-cortez.624124/
The dorado have returned! There are lots of smaller schooling fish mixed with some nice 10- to 25-pounders south of the Lighthouse, one or two miles off the beach; they are mostly taking lures. All-in-all a good start after what amounted to a slow dorado year in 2015. …Gary Barnes Webb

http://www.bdoutdoors.com/forums/threads/dorado-return-signal-an-exciting-may.623802/

Well, honestly the surf fishing has been tough. I'm in Los Barriles -- been here for two weeks. I have fished both the beach and out of my 18' whaler. In my honest -- not trying to sell anything – opinion, it is really slow. No roosters to speak of on the sand. Yes, there are a few resident fish that are super smart, but the bigger roosters have been coming out of 80' of water. The water temp is between 76 and 78 degrees. …Jason

http://www.bdoutdoors.com/forums/threads/east-cape-surf-fishng-report.623812/
San Jose del Cabo
Ocean water temperatures ranged from 72/73 degrees on the Pacific side of Cabo San Lucas, with warmer currents found offshore of San Jose del Cabo and to the north, where it was in the 76/77 degree range.

Anglers were now using various available bait sources, live caballito, strips of squid and rigged ballyhoo. There are now more schooling baitfish, such as cocinero, chihuil, bolito and skipjack starting to move in, plenty of food source to attract gamefish in to the area, at times too much natural bait source and create more finicky fish, as they gorge on all of the present food, then not being that eager to strike anglers offerings. Most of the fishing this past week was taking place from off of Palmilla Point and north to Vinorama. Over the full moon period the striped marlin action had slowed down, but now this bite has improved, straight off of Puerto Los Cabos Marina, three to four miles from shore, has been one of the more consistent area for the billfish. Drift fishing live baits has been the best technique. Sizes on the striped marlin ranged from 80 to 120-pounds. Very few dorado being found recently, just an occasional solo fish, most of them very small.

Early in the week there was some good wahoo action reported from Iman Bank to Vinorama, some charters landing as many as three wahoo, up to 45-pounds. Though later in the week these fish were not very active at all. You never know with these elusive fish, when they will really become active. Conditions are now favorable, with the currents now on a warming trend and more bait schools appearing, these are all favorable signs for the coming weeks.

Yellowfin tuna action has been reported from the Iman Bank and near Vinorama, with the further areas now reporting better action now. Drift fishing with strips of squid has remained the best set up. Some days the fish were coming up to feed earlier and on other days no activity was reported until 11 a.m. or later, you never know, tides and currents can all be a factor, as these fish are concentrated in areas within one to three miles from shore. Sizes ranged from 10-pound footballs, to fish over 50. Some high boats had as many as six to eight tuna, while others managed one or two. The key was having patience and the largest supply of squid as practical.

Bottom action produced mainly smaller sized snapper and pargo species, plenty of triggerfish, an occasional cabrilla or amberjack. In the same area there were more sierra caught, further offshore than you would normally find these fish, some of these were quality sized, five to ten pounds. Not much action at all reported inshore for roosterfish…Eric Brictson, Gordo Banks Pangas
Los Cabos
Fish tasting dinner for Felton's and Brammer's from Seattle, Washington. They went fishing with Beto and Chato aboard Ruthless and caught 4 ojones, 1 babosa, 4 ladyfish and 1 grouper. Well done Greg, Matt, Brandon, Chase, Cole and Brodi. …Pisces Sportfishing

The fishing and catching remains a little spotty for the fleets, but for the past week it seemed like the billfish were still moving around to the Sea of Cortez side of Cabo.

Cabo Climate: It was a mostly sunny and clear week with a few passing high clouds and temps that varied from 70 nights to 79 daytime highs and a 65% average humidity rate.

Sea Conditions: On the Pacific side from the Finger Bank to the Golden Gate Bank, temps were at 72. Jaime Bank and into Cabo Falso, the temps went up to 73 and from Cabo San Lucas to Los Frailes, temps were at 75 to 77. Surface breezes were flowing mostly from the westerly directions and varied from a few light morning breezes to about 16 mph.

Best Fishing Area: The 95 Fathom Spot provided 2 stripers and 2 wahoo and the Gorda Banks provided 2 stripers.

Best Lure/Bait: Ballyhoo bait were working best along with artificials.

Bait Supply: Almost none available through this full moon phase and the vendors were selling the frozen ballyhoo bait at $3.00 each…Larry Edwards, Cortez Charters.

Fishing has been good for us in Cabo -- roosters, jacks, snappers, sierras, and groupers. What more can you ask for? …Grant Hartman, Baja Anglers