Que Pasa
We are excited about one of the new services that BD is offering and suggest you take advantage of this technology to help you plan your fishing trips. SatFish.com brings you the latest advances in satellite imaging technology and will help you be more productive on the water. With state-of-the-art temperature, chlorophyll, altimetry, currents, and our exclusive "Bite Zone" maps, combined with a powerful, easy-to-use interface, it will show you right where the breaks are and help you map out your game plan saving you time and fuel helping you catch more fish -- WORLDWIDE!

We will be posting sample charts of the areas covered in the Baja Bytes report each week. But for more information, go to: www.satfish.com.


Congratulations to Gary Bulla and his tagging team! They tagged the first roosterfish in Baja for the Gray Fish Tag Research organization. http://grayfishtagresearch.org/GFTR recently expanded their successful inshore tagging effort from Costa Rica to Baja Sur. Below is an example of the data that can be obtained through the program.

The roosterfish named "KJ Super Bird" was measured at 47 inches and approximately 45 pounds when tagged. After being tagged and released, the fish was at large for 47 days, during which time it grew a remarkable 1 inch and gained 7 pounds in weight.

Coronado Islands

Reports are hard to come by as very few boats are fishing the Islands right now. The latest dope we have is from yesterday:
Weather side of North Island down at the Keyhole, the Middle Grounds, South Kelp and the Rockpile are all biting right now.
The average size of the yellowtail isn't great. Many are under ten pounds but there are a few larger.
Sea lions are still a major issue. With so few boats working the Island, the sea lions are chasing whatever boat shows up.
Best bet is to slow troll on heavy gear and quickly horse that yellowtail into the boat. There is also a bunch of bonito around. You could drag a small feather for the bonito and then toss the bone to a sea lion when you hook a yellowtail.
No wahoo reports at the Islands but a number of them have been caught just a few miles due west. …www.fishdope.com

Ensenada


Great fishing season for Ensenada taking into account the new players on our waters like the blue and black marlin, as well as the wahoo; this was a dream that anglers never thought they would see for the season and it came true thanks to Mother Nature and EL NIÑO."

Let's start with the "Pesca La Baja" tournaments 2015 edition that ended up at Ensenada Harbor having the First Place winning with a black marlin weighing over 300 pounds and Third Place with a nice wahoo, changing the rules off the game plus leaving new records for this tournament.
And now that we are talking about wahoo, let's give the latest report from my Buen Amigos!! -- Angel & el Boricua who managed to win the Third Place in the "Pesca La Baja," fishing at the Banda Bank trolling with a pink and blue color jet head. …Edgar Sanchez Coral Marine Store

San Quintin
Our team Fred, Mark, Jim, and Dan … Muchas mis amigos! We went 10 for 15 hookups on some huge yellows, on the troll in 30-feet of water over sand. WOW! ...Captain Juan Cook.

http://www.bdoutdoors.com/forums/threads/margarita-jim-sq.603733/

Bahia del Los Angeles
Fished last Friday and Saturday out of Cangrejos for nice fat yellowtail. Great weather and bait was easy on Friday but it slowed on Saturday morning before heading out to our spots. Filled the cooler on both days for the two of us. Had a great trip for my first time there. Pedro fed us sashimi and pescado machaca tacos when we got in. Had machaca burritos on the boat for breakfast while making bait on Saturday. Already planning next years trip!

http://www.bdoutdoors.com/forums/threads/bay-of-la.604397/
Cedros Island
Exotics including, dorado, wahoo and sailfish continue to dazzle.
Bahia Ascension
The lobster fishermen loaded their traps with fresh bait, loaded the pangas with the traps and set off to put the traps out. Blessings for the fleet...buen provecho! I can taste the lobster now!...Shari Bondy
La Bocana
La Bocana Fishing...Gracias Capitán "Wahoo Larry" por su invitación en su MayCraft. Wahoo, Jurel y Dorado. Buen día, Gracias a Dios.......La Bocana, B. Sur. ...Juanchys pic.
Loreto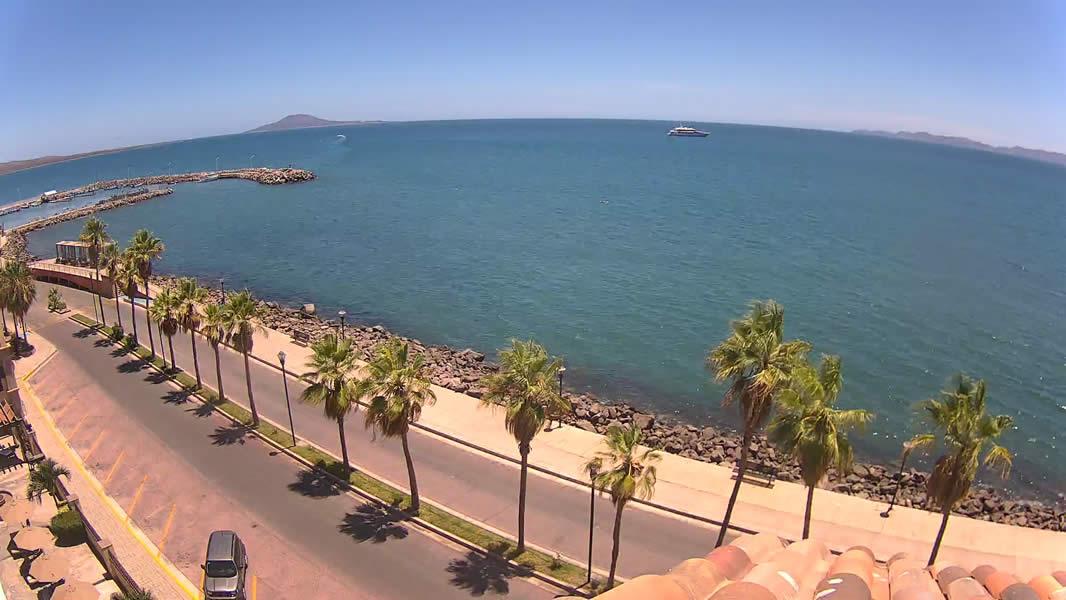 Last week finished out with a taste of the old days … yellowtail fishing on the traditional high spots with live bait. The few boats that did this routine got limits of yellowtail weighing from 14- to 23-pounds. Even with some small patches of storm debris still in the water, nobody hooked up....awwh, maybe next year!

All of our trips this week have been scuba diving. It's the best time of year for "in the water" activities. I guess I could break up my fishing week with some diving.

Only a half-dozen boats zoomed out to Lagrimas and Candeleros this morning, including the commercial handline fishermen. Reds, pinto bass and a mix of yellowtail will be on the daily fish report this afternoon.

Very few tourists in town and the snowbirds are not due until Thanksgiving. Toro, pargo and a few cabrilla are being caught off the Marina rocks on spoons and live bait. No word on the whereabouts of the autumn sierra run. Maybe next week the excited radio chatter will return. Hook ups and limits always are welcomed songs. ...Rick Hill, Pinchy Sportfishing
There are plenty of sardina but no mackerel.

The fishing for yellowtail is good; the big ones are around -- the size is between 17- to 25-pounds. They can be found from Punta Lobos all the way to San Bruno.
Dorado still here and close to shore but very small, around 8 pounds … better to let them grow.
Red snapper (pargo) and sea bass (cabrilla) are biting well.
The captain of the week is Abram Fernandez! … Ana Gloria Benziger, Hotel Oasis

La Paz
Another one of those weird catches of the season! Dan Corcoran got this trophy yellowtail with Captain Jorge out of Bahia de los Muertos on a bait. Yellowtail aren't supposed to be here except when the waters are cold. Water temps are 90 degrees right now. …Jonathan Roldan, Tailhunter International.
Mark Smith from New Mexico has wanted one of these for years and was trolling just off Punta Perrico near Las Arenas with a purple Rapala and Captain Adolfo of the Tailhunter fleet when he hit lightning with this nice wahoo …Jonathan Roldan, Tailhunter
East Cape
Ono for everybody!! Mike Dicks of Rancho Leonero and Adrian McKibbin of La Jolla, along with Captain Ramon of our newest boat, El Jefe, limited on yellowfin and caught these three wahoo in one day -- the biggest weighing in at 53 pounds. …Rancho Leonero.

http://www.bdoutdoors.com/forums/threads/fall-for-wahoo-at-rancho-leonero.603960/
Our goal was to surf fish the beach by Punta Colorada, but we weren't quite able to reach it directly by ATV. After moving inland to get around the Marina under construction at La Ribera, we tried several routes back down to the beach, but each seemed to end on private property where we'd be turned away by guards. Tried heading to the Lighthouse to get to the beach and then backtrack, but couldn't find a route (later from the water I saw that we could have gone past the Lighthouse to get to a path to what looked like a public beach).

http://www.bdoutdoors.com/forums/threads/east-cape-rancho-leonero-los-barriles.604276/
Variety keeps the team happy. …Team Jen Wren

San Jose del Cabo
The yellowfin tuna were the main target, but only an occasional dorado or two -- wahoo have not been active this past week either. FIshing the bottom, anglers found a scattering of miscellaneous species, catches were small- to medium-grade pargo and snapper species -- a few decent cabrilla and amberjack were also in the mix.

Local fleets found the most consistent action off of Santa Maria, to the Gordo Banks and north to Vinorama. In recent days the bite near Cabo San Lucas for the smaller 5- to 15-pound yellowfin tuna has faded compared to previous weeks.

Action near Vinorama improved for tuna in the 10- to 20-pound class, with an occasional fish to 50 or 60 pounds mixed in … chance at a wahoo or dorado from this same area as well, though only a few were actually landed; these fish are on the grounds, being seen free swimming and feeding on chum. The yellowfin were striking mainly while drift-fishing with squid or sardina, proving to be finicky earlier in the week and making a big showing on the surface but not wanting to strike.

The bite on the Gordo Banks improved through the week, with a quality grade of 50- to 90-pound fish. The key has been having the squid -- the more the better with lots of chumming involved.

Marlin action seemed to slow down this past week; one smaller blue marlin was caught from La Playita, along with a handful of sailfish. Some of the yellowfin action late in the week was found under pods of traveling porpoise on the outside of Gordo Banks. Drift fish squid underneath the porpoise; it's a fast moving deal and who knows where this action will be the next day. …Eric Brictson, Gordo Banks Pangas.

Los Cabos
VERY RARE WHITE MARLIN SPOTTING IN CABO, THE 3RD FOR CAPTAIN JULIO CASTRO IN 31 YEARS!
Yesterday Andrew and Paul from Charleston were two lucky anglers with an amazing fishing day aboard Tracy Ann! They caught and released a very rare WHITE MARLIN (60-70 lbs)- in fact it is so rare, that our captain Julio Castro says that it's his 3rd white marlin in all of his 31 years as a fisherman - and man he has been fishing a lot!
It was the first white marlin for our deckhand Martin and for Andrew and Paul.
They tagged the fish and we'll follow up on the story with more info from our anglers, so stay tuned!
Just to mention that Andrew & Paul didn't stop with 'only' a white marlin - they caught and released 2 blue marlins (200-210 lbs) and 1 striped marlin (180-190 lbs), and they kept three yellowfin tunas for a well-deserved dinner!
The marlins were biting on caballito bait, and their lucky fishing spot was 42 miles outside …Pisces sportfishing

It began with some good tuna action but the big fish numbers have gone down and the smaller fish have become sporadic, popping up once in a while. There have been good days on blue marlin; yesterday was one of them with many reported hook ups. There was fairly steady action on sailfish, and a few dorado and wahoo were found. Inshore the action has been limited to bonito and some football yellowfin as well as an occasional small roosterfish. A scattering of the usual inshore species made for a few more fish in the boxes ....George Landrum
The full moon phase had a significant effect on the Cabo San Lucas fishing this past week and the overall fish bite took an unusual downward turn with all of the species and lowered the billfish counts.

Air temps varied from 74 nights to 94 daytime highs and a 70% humidity level. Sunday through Thursday was mostly sunny, turning partly cloudy Friday with rain on Saturday and scattered showers on Sunday.

Sea temps ranged from 86 to 87 on the Pacific side from the Finger Bank down to Cabo Falso. Cabo Falso to Los Frailes on the Sea of Cortez side was stable at 87 to 89 degrees. Tropical surface breezes flowed from the south to westerly directions and varied from near calm to 13 mph.

The live bait supply remained good and was not hampered by the full moon. Live bait remained at the $3.00 per bait rate. …Larry Edwards, Cortez Charters