Mag Bay light s up...
Que Pasa
Pesca La Baja, a tournament series of five events promoted and sponsored by SEPESCABC is in its third year. Pesca La Baja is a unique concept that has established itself among the vast array of Baja sportfishing events. Held in remote towns on both the Sea of Cortez and the West Coast of Baja Norte, the five events are inexpensive, local affairs.

The format at each venue is identical, beginning with a Friday registration, fishing Saturday and awards Saturday night. Entry is $600 pesos for adults and $200 pesos for children 12 and under.

Awards and cash prizes are given for both surface and bottom fishing species: Surface: yellowfin tuna, big eye, albacore, marlin, dorado, yellowtail, sierra and seabass.

ROADS NORTH FROM CABO update

Just returned from my home in Cabo to Phoenix. Here are complete road conditions on the roads I traveled, starting Monday, 9/19:

http://www.bdoutdoors.com/forums/threads/roads-north-from-cabo.638909/#post-4198178
Anorther update from Vagabudos del mar
President Tony & Nancy Schuck just arrived in Loreto. Here is the Road Report as of September 26, 2016

Mexicali to San Felipe the road is in good condition. San Felipe to Gonzaga Bay the road is in good condition. However, from San Felipe to Puerticitos there are many dips in the road, termed "vados." Sometimes it's difficult to see these ahead and you might be down in one or airborne before you know it. Driving 40 to 45 mph maximum is advised going through this area.
Gonzaga Bay to Chapala (Mex. 1) the last 24 miles are unpaved and rough. That stretch took 2 hours traveling in a car without a towed unit. Below Catavina (Mex. 5 comes into Mex. 1 below Catavina) to about 5 miles before the LA Bay turnoff, there are 15 to 20 miles of real bad potholes, 2 to 3 feet across and 4 to 5 inches deep.
Guerrero Negro to Loreto the road is in excellent shape with just some washouts that have been repaired and not a problem. Road construction in Santa Rosalia is complete.
Coronado Islands
Some bonito and some 12- to 15-pound yellowtail found today in the South Island area. Reports were the water looked great with temps in the 70.5- to nearly 73-degree range; followed that up with more 8- to 9-pound yellows off a kelp in the 425 area.

Small yellowfin are scattered out now over a very large area from just off Dana Point down to the 371 – 425 and then more off Colonet.

Not a whole lot of kelp paddy action in spite of the fact there is a ton of big fat kelps out there. There are lots of marlin around right now. These should stick around until we get a big blow. …Fishdope.com

La Salina
La Salina. Gassed the boat up, made it to the spot in no time. Started getting bit on the bottom and now we have fish on the boat; a variety of species -- getting Johnny bass, bocaccio, red, and calico on the way up. In the morning we saw yellowtail boiling in front of the boat and we thought, 'well, this looks very promising.' As we were about to make the move . . . Boom! We get hit hard and line is peeling off the Trinidad 20a; we think it's a big ling. But then it makes a good run followed by the famous yellowtail head shake -- deep color and it's a yellowtail! Estimated weight –20 pounds.
http://www.bdoutdoors.com/forums/threads/solid-yellowtail-action-la-salina.639090/
Ensenada
Mixed bag of barracuda, small yellows and calico bass on surface. Plus excellent bottom fishing.
Colonet

Out West of Colonet
Big scores of mixed yellowfin, skipjack, dorado and yellowtail are coming from:
The area(s) are about 115 to 120 miles from Point Loma and are centered in a 5- to 6-mile block and a 5- to 6-mile block farther down.The yellowfin are 95% in the 10- to 25-pound class and are being found on birds, sonar marks, kelps and off jig stops, which we are not seeing up north. The kelps are also holding good numbers of 8- to 25-pound dorado and a number of rat yellowtail.
San Quintín
Found lots of tails that were small so we deep-dropped for lings and reds; it was "reel" good as you'll see. On the 24th we looked for seabass, but it was dry so we shallow-water fished all the way to Arroyo Hondo and caught reds, goats, calicos, sand bass and barries all day long. …Captain Juan

http://www.bdoutdoors.com/forums/threads/da-paine-is-gone-here-comes-da-porn-sq.639096/#post-4201196
Good day of diving -- a lot of mackerel!!!
Me and my kids plus Oscar, Catian, Cristian, Hernandez, Nena Campos;
first to 240 for yellowtail and then to Island San Martin for 6 jacks, several cabrilla and trigger-fish for ceviche!!! Kelly Catian
Bahia de Los Angeles
Just got back yesterday . . . no bait in Bahia; very tuff if any. We stopped in Ensenada and picked up some mackerel and sardine and put on ice. First day we hit the back side of Smith Island and caught all the fire crackers you wanted on jigs and butterfly jigs but the North winds picked up in the afternoon.

Day two on water: real early had dead bait so headed straight to lower Guadalupe Reef. It was non-stop on the nice yellows on the blue and white JRI jigs -- nicer because more weight got down quicker. Deep yoyo every drop resulted in hook ups for awhile; four people were done fishing by 8:30 am. It was calm and hot early. You have to get there early and get them before the North Winds picked up. Daggett's boys can put you on the fish. Can't wait to hit it again! …Johnny

http://www.bdoutdoors.com/forums/threads/bola-updates.638756/#post-4196991
Gonzaga Bay

I was down at GB this past weekend -- Sat afternoon; no less than 5 or 6 gill net boats stretched south from the Rancho Grande point almost to Campo Beluga working it hard! Most had San Felipe names/numbers. ...Cedros Island…Mike

http://www.bdoutdoors.com/forums/threads/gonzaga-bay-gillnetters.639372/#post-4201319
Cedros Island
As the season has progressed, the great catches of yellowtail and calico bass continues. Plus with the warmer sea temperatures yellowfin tuna, dorado and even an occasional striped marlin have been welcome additions to add to the good catch list…Cedros Adventures
Bahía Ascensión
While it poured in much of central Baja, once again the rain slid by us with nothing but sunshine here in Asuncion. The ocean was the perfect temperature for swimming today…Shari Bondy

La Bocana
Report pending. …Juanchys Aguilar
Santa Rosalia

The fishing has been great down there. My compadre Rigo has been catching yellowtail and amberjack at Tortuga. …Felipe

http://www.bdoutdoors.com/forums/threads/santa-rosalia-report.638956/#post-4201330
Loreto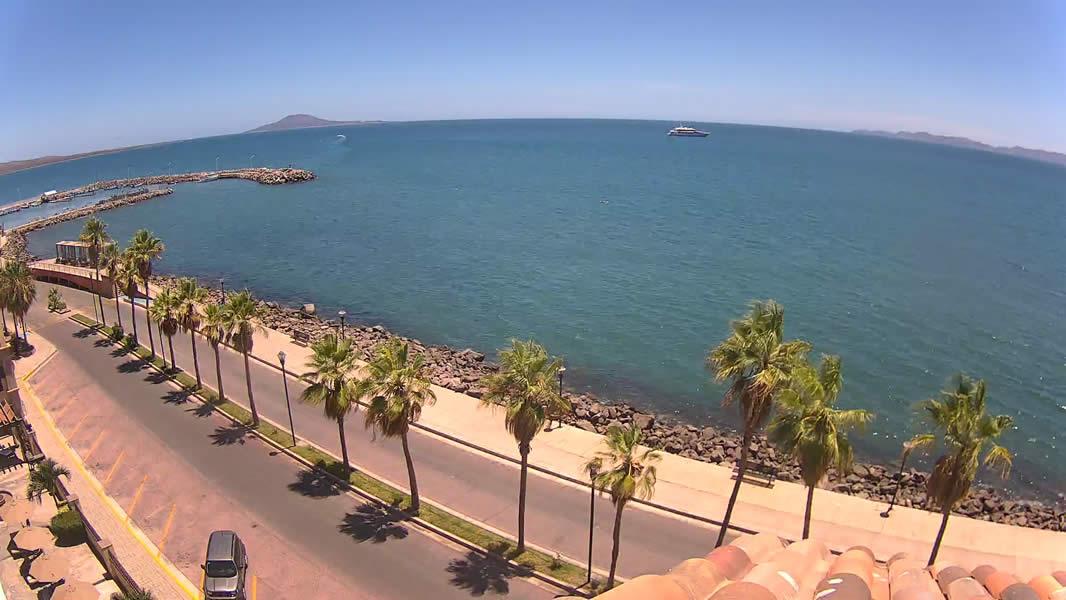 Photos of the finish line-up in the plaza and a truck returning in the wet street.

We had a break from fishing this week.

The Loreto 400 Off-Road Race took the stage and got everybody stirred up for Baja racing. Most of the contestants were Baja locals and had an impressive assortment of serious race machines . . . from motorcycles -- bug and sand-rail types -- to full-sized, built-up pickups. The start line was in front of city hall with the finish line down in the arroyo just south of town.

The last half of the finishers got an extra treat of having to drive in a surprise desert downpour. We see at least two similar races here every year in addition to the Baja1000 that comes to town.

As far as fishing goes there has been no change in the short fish count and the low numbers of trips on the water. Bottom fishing and some nano dorado seem like the only games in the neighborhood.
No sierra and the toro that are around are small and locked into schooling mode. And no fishing today -- we have a cruise ship for a day visit, maybe next week? …Rick Hill, Pinchy Sportfishing

Magdalena Bay
Bad Company Day one mag bay report (Thursday)
Slick calm weather and wide open fishing....fished wahoo until 10:30, they were winning for sure. I think wahoo was somewhere around 6 for 15 or so...the boys more than made up for it on the Marlin. I think they only missed 9. Fun day for sure. Never pulled anything more than 2 squid chains the whole day for the Marlin.
55 billfish. 53 stripe and 2 sails
6 wahoos
2 dodos
1 yellowfin
Two teasers - 0 jigs/lures
5 worn out anglers

http://www.bdoutdoors.com/magdalena-offshore-part-3/
Well, what a trip for El Wahoo Loco -- I think some of the anglers will chime in or post their own pics as well, but here are a few for now. It seemed we were hooked on fish for most of the trip, be it a tuna, marlin, dorado or wahoo. We made a ton of bait at the entrance, headed out to the banks that night and woke up to the fish. Between trolling spreads, chasing boils, throwing bait, and casting we were able to keep fish coming mostly all day long into the night. We had large amounts of double, triple and even a few quadruple hookups. The marlin were large and feeding and by the last morning, I found myself trying to get my lure away from a big striped marlin so as to not miss the heavy wahoo bite we were having.
http://www.bdoutdoors.com/forums/threads/magdalena-bay-trip.639327/#post-4201345
La Paz
Been so crazy here, I haven't posted up all week! But we've had a nice little tuna bite going on with our Las Arenas/Muertos Bay fleet. The ticket is the giant squid I'm scavenging from all the markets at night to have for the fishermen. The tuna love calamari! Here's just some of the photos from the last few days. Fish are 10 to 25 pounders. … Jonathan Roldan, Tailhunter International
East Cape

Nice wahoo landed by Sergio Feinstein and the Angler Chronicals gang while fishing on the Julkateout of Hotel Palmas De Cortez. …Van Wormer Resorts
Best week this year so far. The weather has settled down after some bumpy conditions. Very low chance of storms, wind or rain.
Nice cool mornings with mild calm days. …Gary Barnes Webb

http://www.bdoutdoors.com/forums/threads/best-week-this-year-so-far.639042/

Marcus Lester and Mitch Ebright from California, both found yellowfin tuna to 25-pounds. …Hotel Buena Vista Beach Resort
San José del Cabo
Report Pending…Eric Brictson, Gordo Banks Pangas
Los Cabos
Report pending. …Pisces Sportfishing

Billfish remain strong -- one blue weighing over 500-pounds was caught from a panga. Meanwhile striped marlin and sailfish are creating the most buzz for visiting anglers.

After a dull summer season the larger dorado, up to 40-pounds, have finally made it to the party. Still many dinks -- release them until the larger ones show up.

Wahoo still in the mix on the Pacific side from the tip to the lighthouse, close to shore early mornings.

For the tuna, it is definitely "football" season inshore with a few gorilla-size up to 180-pounds showing up with the traveling porpoise.

Roosterfish are another inshore candidate. Most are being caught tight to the beach in pangas using live bait. There has also been some good surf fishing action this past week on the Pacific side but mainly close to the Old Lighthouse.

Cabo Climate: A mostly cloudy week with an occasional spurt of rain and warm, humid weather conditions. Daytime air temps averaged about 88 degrees and nights about 74.5. Humidity level averaged near 68.5% during the past week.

Sea Conditions: Surface breezes flowing ion mostly from the southerly directions and flowing at about 7.5 MPH. Water temps, from the Finger Bank and southerly to the 1,000 fathom curve were all at 83-85 degrees and from Cristobal to Los Frailes was about the same, too, in the 83-85 degree ranges. Overall, it was very good fishing conditions for the fleets.

Best Fishing Areas: Jaime Bank, Herradura, El Faro, Pozo de Cota and Migino, all on the Pacific side.

Best Bait/Lures: One wahoo taken on the fly aboard the Tuna Time, an unusual way to catch'em and even luckier to get'em to the boat. Rigged baits & trolling baits were working well as were a variety of artificials, with the dorado seemingly getting more eager to bite with each passing day.

Live Bait Supply: Remained plentiful at he $3.00 per bait rate…Larry Edwards Cortez Yacht ChartersCharters