Pesca la Baja draws record-breaking turnout and fish follow
Que Pasa
RedRum Sportfishing Teams Up with Veteran Outdoors
Here is some information in regards to the Wounded Vet's Trip we are doing this week here in Cabo -- Veteran Outdoors Staffers Cody Hirt, and Brad Strittmatter, Georgetown, Texas, accompanied by Marine Sgt. Travis Lee Cox, Cypress, Texas; Navy Chief Eric Baggs, U.S. Army Farmers Branch, Texas; MSgt, Dan Robles, Garden Ridge, Texas and U.S. Army SSg John Alexander Botts, Hermitage, Tennessee.

The night they arrive there will be a hosted dinner at Misiones de Kino. Then they will be hosted aboard RedRum's boats for two days of deep sea fishing. fish Thursday and Friday and visit Wild Canyon Adventure Park . . . compliments of Leon and Cristy Robles at Wild Canyon Adventures for bungee jumping, zip lining, and ATV's. Wrapping up the trip on Friday night as guests for a farewell dinner at Roasted Grill and Bar before departing on May 21st.

http://redrumcabo.com/redrum-sportfishing-teams-veteran-outdoors/
Coronado Islands
Some yellowtail have been showing from early mornings through mid-day from the Middle Grounds to Ribbon Kelp. This action, however, has been on the slow side. Better action happened yesterday afternoon and evening in the area around the Rock Pile. We are hearing the boats are back down at the Finger Bank looking for those breezing yellows again.
Evening Update: Much slower fishing Thursday. There is still plenty of yellowtail being seen though. Today saw breezing spots of fish below the Rockpile and a few in the Rockpile area proper. They were, however, very hard to get to bite. A well-placed surface iron scored most of the fish caught today.
The San Diego went home with 33 yellows, 1 barracuda and 1 bonito for 43 passengers while theMalihini had a tough day, with just 4 yellowtail, 84 rockfish and a lingcod for 18 passengers. …Fishdope.com

Ensenada
Chris Bates and his wife chartered Selena out of Ensenada last Saturday to fish Banda Bank; they wanted to see if they could find something other than bottom fish before heading back to Todo Santos to finish off the day.
Chris must have known something because he picked up two bluefin by 8:30 a.m. Now with live sardines for sale, Ensenada should do well this season and June is just around the corner! …the Bajabum

http://www.bdoutdoors.com/forums/threads/blue-fin-near-banda-bank.625844/
San Quintín
Fun day -- didn't get to dive but we put some quality fish in the boat! Christian Catian with a San Quintin Bay "flattie." ...Kelly Catian
San Felipe
Last weekend we had a great tournament sport fishing in San Felipe; it was the startup of the international championship "Fishing Baja," promoted by the State Government through the SEPESCBC. The large number of participants broke the official registration record in this town and they captured the heaviest fish – a 146 pounder. See you in Gonzaga Bay on 10 and 11 of June friends! ! !

http://www.pescalabaja.com/
Bahia de Los Angeles
My buddy Fat Matt and I decided to charge to BOLA first chance we had when the weather looked good. We checked the weather on 05/08 and drove out Weds 05/11. We posted here for a couple of open spots, but no takers. Got to BOLA in about 9 hours -- roads were good except about the last 20 miles into Punta Prieta. All the unavoidable potholes! The road into Bola had several huge areas that were washed out so watch your speed going in. Three (3) areas were under construction on the BOLA road and it looks like they are building bridges over the arroyos. …Beer Goggles

http://www.bdoutdoors.com/forums/threads/bola-5-12-and-5-13-lots-of-yt.625667/#post-4088990

Gonzaga Bay
New experience for me. When we came in to Alfonsina´s after fishing last week, a truck load of military guys were there. Not out of the ordinary in Baja. They were very interested in checking out the fish. Again, not out of the ordinary in my experience. They were so excited with our catch that they asked if they could take pics with our fish. Of course we said yes and it was cool seeing them posing and snapping photos. …Bob Rehfuss
After a great birthday in San Quintin, Captain Juan San Quintin, Rosarito Jimmy, Captain Adam, San Diego and I headed off to Gonzaga via Laguna Chapala.
The dirt road from Mex 1 to Gonzaga is about the same as it was last May but lots of work is being done and projection for completion is 2017. …Bob Rehfuss

http://www.bdoutdoors.com/forums/threads/juance-upon-a-time-in-gonzaga.625889/#post-4090577
Bahía Ascensión
Woo Hooo! Sashimi in May! Juan caught this fine yellowtail between 18 and 20 pounds in front of our place just off the island! The water is warming up . . . 64 today. …Shari Bondy

La Bocana

No Report. …Juanchys Aguilar

Abreojos
The coop in Punta Abreojos has agreed to remove 33 of their boats from operating over the next four months. These pangas would normally go to the Gulf of Ulloa which is in the prohibited fishing area -- Comondu to Abreojos. The coop says this is to demonstrate that the pangas are not affecting the Loggerhead turtles.
Loreto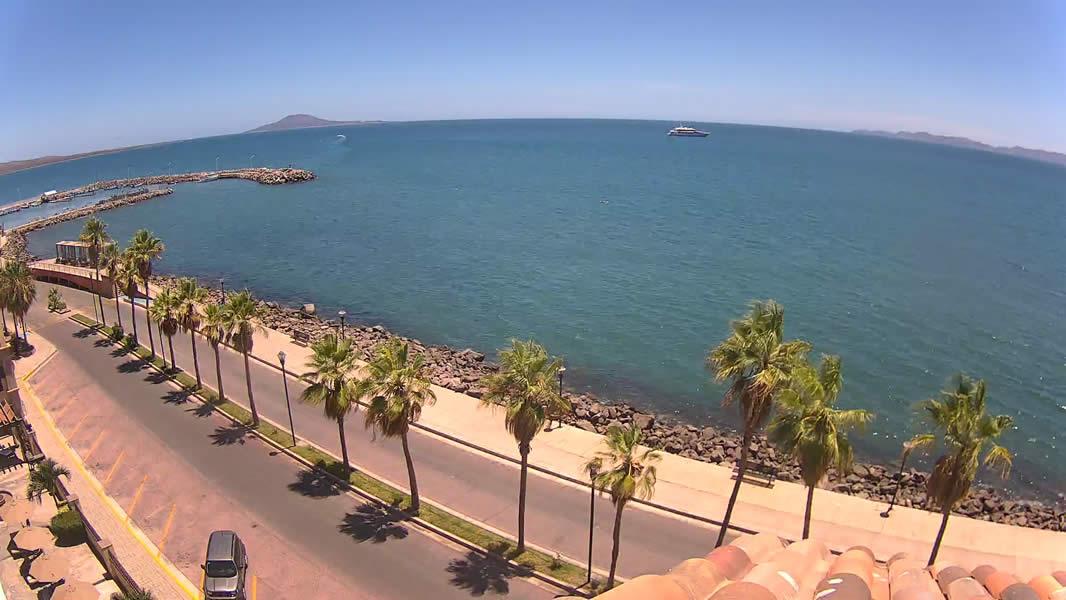 Our crew, Luis, Gali and Juve, hold up some nice Carmen Island yellowtail on the way to the fillet table. Live mackerel are in good supply and that's good news because that's the only thing that has been consistently catching the yellows!

Looks like we are still edging into the transition of seasons and I must say it feels like one more week . . . one more week! No solid fishing days but decent results for most boats.

Yellowtail have been most active off the north tip of Carmen Island. We are still seeing some good bottom fish in the same area with pinto bass and the highly-prized baqueta.

Cabrilla fishing has been good on the north side of Catalana Island; some caught on live bait and the rest falling victim to trolled diving hard baits along the rocks. La Cholla flats has been good for pargo mixed with some big triggerfish.

Cut bait and iron has been the successful ticket here. Only a few small yellowtail were caught in this spot and no cabrilla. This is a good "go-to" spot for the commercial hand-line fishermen who are looking for snappers and huachinango.)

Water temperatures have been as high as 76 degrees and some screen shots I got on the fish finder are still screaming, "tons of bait marks" that sometimes filled the whole screen. …Rick Hill, Pinchy Sportfishing

Magdalena Bay

No Report. ...Bob Hoyt

La Paz
Today I drove out to meet my captains and everyone at the launch in Bahia de los Muertos, including the commercial fishermen and fishing clients, were milling around staring at whitecaps in the wind and waiting to see who would go back home first. I called back to our hotel in La Ventana and let them know it was off. Hate that. After joking around with the crew, I drove back to hotel planning a non-fishing day in the mountains. I arrived back at our digs on the beach and saw that the water was much calmer in our area, which is where we wanted to fish anyway. Made another call. The captains rallied from their homes, launched, and braved running around Punta Arenas, and ran another ten or so miles to arrive on our beach.
The fish were hungry. Everyone is fishing flies we tied this week. We were the only anglers on the water. We landed 7 or 8 roosters of size and 8 fly guys were very happy. Love my job. …Gary Bulla
Triple play for Kevin Shiotani, Rick Hosmer from Orange County, California, with Captain Mundo as they show off a big yellowtail, a trophy cabrilla and a yellowfin tuna taken from the north end of Cerralvo Island. …Jonathan Roldan, Tailhunter International

East Cape
The fishing has not been wide open, but there are a lot of species biting right now. Some days are better than others, but everyone is going home happy! Today we had one boat that landed two dorado, two tuna, a wahoo and a rooster. Another boat had two marlin released! And another had a marlin, a dorado and a wahoo.

That is the great thing about fishing the East Cape -- you have so many opportunities, you can go home with over 20 species landed in one trip. We are starting to see more sailfish as well in the last few days. We've seen a handful caught and released by the fleet this week. There are also jack crevalle, pargo, cabrilla and more. Weather is still great with highs in the low 80s and lows in the low 70s. Great time to be in Baja! …Van Wormer Resorts

http://www.bdoutdoors.com/forums/threads/east-cape-report-5-18.626111/
Summer seems to be settling in on the East Cape. We have had a rise in temperatures this past week and with it a little rise in the fishing action.

Marlin and billfish action continues to be on the slow side for this time of year but was improving towards the end of this week. Sailfish and striped marlin got into the action. Marlin can be seen jumping regularly. It is only a matter of time before they go on the hunt. …Scorpion Sportfishing

http://www.bdoutdoors.com/forums/th...-cape-report-may-15-2016.625709/#post-4090134
Larger dorado...WAHOO!!!…Gary Barnes Webb

http://www.bdoutdoors.com/forums/threads/larger-dorado-wahoo.625687/
First blue marlin released of the 2016 season. …Vicente Cosio's Team Dottie B II…Hotel Buena Vista Beach Resort
San Jose del Cabo
Today was our 6th straight day of fishing and I don't think I've ever seen a wahoo bite like what's been occurring the past few weeks. We've averaged 3 to 5 wahoo every day then we moved to the 1150 where a very good marlin bite is also happening. It's been so long since I've seen a dorado, Jaime had to show me a picture in a magazine today of what they look like. If they're here, we sure can't find them.

Good luck to all. …Thomas

http://www.bdoutdoors.com/forums/threads/dont-bite-off-more-then-you-can-chew.626028/
Flew down Sunday, Mother's Day afternoon, and spent the night getting the gear (Avet HX 5/2, Accurate Boss Fury 300N, and an Okuma Makaira SEA 16, all two speeds) ready. Picked up some local bait in the harbor at San Jose Del Cabo early, and met Cpt. Tony from Gordo Banks Panga, and we jumped aboard his boat, The Hooker. We spent some time going after one of the Captain's favorite bait's; he called it a "Chilly Willy", and which I called a Chihuahua. After picking up some quality pieces, off we went. …Tony Clark

http://www.bdoutdoors.com/forums/threads/panga-fishing-in-san-jose-del-cabo-may-9-10.625550/
We are now in the latter part of spring season, with summer just around the corner; we continue to see lighter crowds of tourists than what we would normally expect during this time frame. As school semesters finish, most likely we will see more people traveling. Great time to visit now -- ideal weather, highs in the upper 80s, and wind patterns predominately from the south, pushing in Pacific breezes that keep conditions bearable.

Ocean currents have been strong, swells have been moderate and water temperatures off of San Jose del Cabo and towards Los Frailes are warming rapidly, now in the upper 70s, near 80 degrees, while on the Pacific side of Cabo San Lucas it has averaged 73 degrees. The majority of the sportfishing fleets are now fishing off of the Chileno area and on the various grounds to the northeast. Common bait being used is ballyhoo, cocinero, caballito and squid strips. There are reports of more skipjack and bolito activity, though these food sources are just starting to appear; still no mullet schools to report.

Striped marlin has been the main action found offshore -- more numbers of marlin found 10 to 18 miles from shore. On some days stripers were found within one mile. Many boats had multiple catches per morning trip. Sizes ranged from 60- to 140-pounds. The billfish were striking trolled lures, rigged ballyhoo, as well as various live baits. There were also a few sailfish appearing in the warmer waters, with concentrations of pilot sharks and some threshers as well.

The same offshore grounds have been producing quite a few wahoo strikes and even a few dorado, no big numbers, though wahoo were as large as 50-pounds or heavier and dorado were up to 25 pounds. Striped marlin were more numerous than dorado or wahoo.

Increased porpoise activity is being reported, with a few larger-sized yellowfin being seen; the largest we heard of that was landed out of Puerto Los Cabos Marina was an 80-pound-class tuna mid-week.

Anglers trolling areas closer to shore -- anywhere from Chileno, Red Hill, Iman and towards the San Luis Banks -- found a mix of wahoo, yellowfin tuna, dorado, sierra and miscellaneous bottom species. No big numbers of any species; off the bottom triggerfish were most common, along with some early morning snapper, amberjack and an odd yellowtail.

Most of the dorado being encountered have been small juveniles, with occasional nicer-sized fish reported. Wahoo ranged from small 15 pounds to over 50 pounds.

Not much roosterfish action reported; a couple of snook catches by beach anglers signaled the start of the main shore fishing season coming up. …Eric Brictson, Gordo Banks Pangas

Los Cabos
One of the nicest dorados we've seen in awhile was caught today. Shown here is Captain Roberto (El Jefe) on the left and deckhand Salvador (Chava) on the right; in the middle is the happy angler, Chris Ponce from Texas. Nice fish! His group also released two striped marlin - good catch on a pretty windy day. …Pisces Sportfishing


This was shot in Cabo aboard Renegade Mike, a 31-foot Bertram. Camera was attached to a dredge which had some squid, and Mylar-tapped ballyhoo. Right in front of the camera there was a Mold Craft softhead lure, Med Petrolero…Renegade Mike

The billfish bite continues to be a near 70% catch rate for the boats. All in all a pretty decent fishing week that allowed most of the boats to enjoy fighting a billfish or two and as always there was a few early releases in the mix of the catches.

Cabo Climate: Air temps varied from 69 nights to 84 daytime highs with a 51% average humidity level. A mostly sunny week with a couple of days of passing clouds through the area.

Sea Conditions: The Pacific side is cool along the shoreline & out to about 5 miles or so at 63-65 degrees and then warming to 69-71 degrees across the Golden Gate and Jaime Banks. Cabo San Lucas to Chileno and out to the 95 fathom spots all at 75-76. Chileno and northerly to Los Frailes is all at 79-80 degrees. Surface breezes flowing in from the northwesterly directions and varied from calmer mornings to about 13 mph in the afternoons.

Best Fishing Area: The 1150 Fathom spot, the 95 Fathom Spot and Cabo Falso, (El Faro) being the best bite areas for the billfish and wahoo.

Best Bait or Lure: Live bait was best, either drifting or casting, particularly in the 1150 Fathom area for the billfish & wahoo.

Bait Supply: Excellent bait supply at the $3.00 per bait rate…Larry Edwards, Cortez Charters.
Sam Vigneri got a very nice rooster this week. No teasers just sight fishing…Grant Hartman, Baja Anglers