Que Pasa
I know cast nets are illegal in Southern California . . . perhaps all of California . . . but can a U.S. citizen use them in Baja? I've always done it the way the locals do in BOLA (Sabiki Style) but just thought it might be legal after seeing Rush throw so many perfect pancakes on Local Knowledge. I realize he is throwing in Florida, where they are legal to use but.....does anyone know if cast nets are legal in Mexico?

http://www.bdoutdoors.com/forums/threads/cast-nets-in-mexico.617421/

Coronado Islands
No report since the storm. We believe a couple of the boats are having a look today. If so we'll get a report later…Fishdope.com

Ensenada
.

Headed out this past Saturday. What a coincidence that we were the only ones heading out next to all the surfers loading up their boards. As you may know, the bait situation has been crap for about the last month so we don't even bother looking anymore…Joseph

http://www.bdoutdoors.com/forums/threads/mucho-rollers-last-cast-ensenada.617537/

Weather gives us a little taste of what it will feel like to have a Hurricane!!! Huge waves , strong wind , rain , lighting -- leaving a few damages on boats and houses -- not bad but scary !!

Yellowtail action keeps going on. Several reports from local anglers on the VHF channel with lots of complaints of seals in the area that chase the boats to steal their catches.

Reel Adventure and Tin Man report some nice-size yellows on board -- not the quantity that they would like to have for the three days of fishing; they lost more lures compared to what they caught. …Coral Marine Store

San Quintín
January recap. …Captain Juan Cook
Bahia de Los Angeles

https://igcdn-videos-h-1-a.akamaihd...-16/11106756_797682180325901_1346220715_n.mp4
Guerrero Negro
Laguna Ojo de Liebre while count continues to climb.
Bahía Ascensión
Surf's up…Shari Bondy
La Bocana
Mulege
Yellowtail Tournament -- February 17 – 21, 2016.

Hola all of you fishfreaks, The Yellowtail tourney is quickly taking shape. Posters are posted, the packages are at Claudia's and Miguel's at noon today. Cost is 800p or $44.444444.

The package includes a shirt, very nice appreciation gift,2 meals and entry to the contest paying $6,000 pesos for largest, $4, 000 pesos for 2nd, $3,000p for 3rd and $2,000 pesos for largest other.

All other particulars are in the package. Please take just a few moments to read. As always DON'T FORGET YOUR LICENSE!!!!!! Your license must predate the 17th. PAY ATTENTION. These are Mexican regulations.

Captains meeting is scheduled for Wed. the 17th at 3 at Jungla Jims. There is a Sat night dinner/dance commencing at 6 at Senor Geckos. Banquet commences at 2 on Sunday at Jungla Jims.

The very preliminary weather report is very favorable. We have had ongoing discussions with the yellowtail union and have made some progress on their cooperation. They have so far agreed to longer bite periods in return for larger mackerel and faster jigs.

Negotiations are becoming so sophisticated; they are requesting video feeds of who is on the boat. I'm not sure where that is going. We're hoping for a large turnout as the entire community benefits.

Also, official lies are acceptable starting with the "pig races" Sunday the 14th at Carlos sports bar. Obviously, we are in the height of the season; let's all enjoy the festivities More Later, Bill
Loreto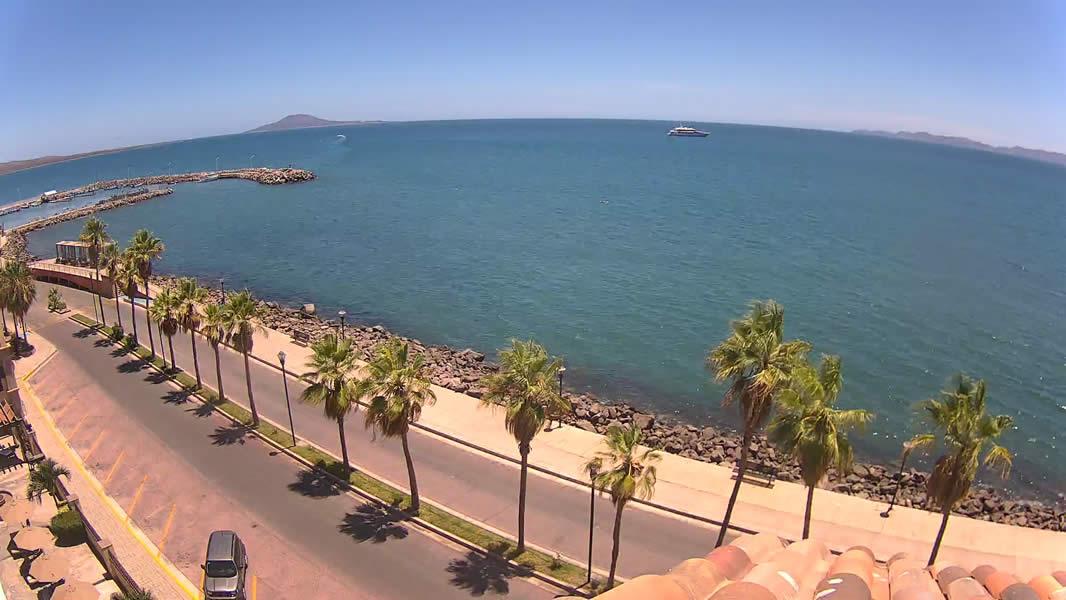 I would love to report great fishing in the Loreto waters this week but as everyone on the West Coast of North America knows --"no way!!"

My source from down south, Ed Hoffman, the Escondido weatherman, said it best, "Stinking wind to 35 knots and 9-foot seas!"

The bait is here and good fish have been caught on the days we can get out.

The future is where the yellowtail are hiding and hopefully the winter "calm followed by windy cycle" will start happening. This past week, the fishing wasn't happening. Maybe it's the El Nino...Rick Hill,Pinchy Sportfishing
8th Annual Tripui Sports Fishing Tournament


2016 TRIPUI SPORTS FISHING TOURNAMENT

June 30th – July 1st & 2nd, 2016

Tournament format will be much the same as in previous years.

Sign-up will be on Thursday, June 30.

Fishing on Friday and Saturday.

Mexican Buffet Fiesta will be held Friday night July 1.

The awards dinner will be held Saturday night, July 2.

The purpose of this event has always been to raise donations for local Loreto area needy groups.

We are looking forward to seeing everyone for another fun-filled event.

If you plan on entering, please let me know ASAP so I can get a head count.

If you have any questions, please give me a call or contact me from the information below...Bud Dees
Tournament Director
Email: tripuisportsfishing@outlook.com
Mexico Phone: 011-52-613-133-0044
Magic Jack:661-771-2163

Magdalena Bay
Vince Ward Eddie Flores Blake Stamper Don Stamper are thrilled at being snookered.

Snook snap surprises everyone according to Bob Hoyt, Mag Bay Outfitters
https://scontent-lax3-1.xx.fbcdn.net/hvthumb-xaf1/v/t15.0-10/s640x640/12496553_218603445149920_1213203231_n.jpg?oh=ff3b92c561b4f464c7ebd5d16a2d4ccb&oe=5738E35F
Fantástico vídeo, hecho en Pto. San Carlos
La Paz
First yellowtail of the season for our Amiga, Donna Thompson, who was out with Captain Hugo on their boat from La Ventana.

True to form, as has been since late October, the formula for fishing has been pretty simple: Find a window of opportunity when the wind isn't blowing and there's a good chance that you're going to find fish. In fact, chances are the fishing will be pretty darned good…and likely unusual.

We had some winds this week. But early in the week and late in the week the weather gods smiled and the wind speeds dropped to single digits and the waters went flat. There's not that many folks out because this is off-season, but for those who were out fishing, the "catching" was a lot better than the typical winter fare of inshore species like pargo, cabrilla and jack crevalle.

There's been quite a mix of fish because in addition to the "cold water" inshore fish like the jacks, sea bass and snapper, there's also sierra, but more importantly, blue water species like sailfish, yellowtail and wahoo. That's pretty incredible because the sailfish and wahoo are normally warmer water fish. More surprising because the fish are not far off or in deep water. Areas such as Punta Perrico…right off the rocks just outside of Bahia de los Muertos and the south end of Cerralvo Island are both holding some big fish. The yellowtail are running 20 to 30 pounds. The wahoo are also in the range of 30 -pound class fish.

This week Carnival starts for six days starting Thursday! La Paz is going to be in full party-mode. …Jonathan Roldan, Tailhunter


East Cape
Literally just one quick photo . . . and then the fish thrashed wildly, fell from my hands, and swam off. Scott Fly Rod Company. …Lance Peterson

Just returned from another great Baja trip. Stayed at my friend Todd's house at El Cardonal. Weather was windy Thursday and Friday but laid down over the weekend. Ran down to Frailes on Saturday looking for the tuna that were supposed to be in the area. We chunked and metered fish but no takers. Ended up with some great red snapper, triggers and a nice sheepshead for dinner and ceviche.

Sunday we fished out of Cardonal and headed to the Pescadero area. Picked up a striped marlin right away on a live bonito. Saw a few more but no luck. Fished the reefs briefly hoping for YT but nada. On a side note, I have never seen so many whales in one day in my life! They were everywhere. I talked to two boats that went north and fished Muertos and the south end of Isla Cerralvo for nada.

Woke up Monday morning to another great sunrise, grabbed some coffee and a surf rod. Just then sardines start boiling in the surf. I run down from the house and start throwing a Krocodile. After a few casts, a small rooster grabs the lure and after a short fight I released him. Saw a few bigger fish but that was it.

I run back to the patio to grab a quick bite. As we are just hanging out, a striped marlin is slashing bait and comes out of the water maybe 50 yards off the beach! I start fumbling for a heavier set up but by then he had moved on. Still a great image in my head that we will all remember. Can't wait for the next trip. …Mike

http://www.bdoutdoors.com/forums/threads/los-frailes-punta-pescadero-report.617491/

San Jose del Cabo
The first week of February brought light crowds of tourists, the all-around climate was very pleasant considering this is the midst of winter time and daytime highs were reaching 85 degrees. The period started out with calmer days, but quickly these calm ocean conditions deteriorated, as the north winds picked up to near gale force, on Wednesday it blew 30 mph, with even higher gusts, then weakened later in the week to about 15 to 20 miles mph., this continued through into the weekend. As a result we saw ocean water temperatures drop suddenly into the 74 degree range and it appears this cooling trend might continue.

This sudden change did not help the fishing action at all, in fact not many charters were even braving the elements. Bait fish became scattered, though local bait vendors did make the extra effort to travel to the Pacific side of Cabo San Lucas at night where they found good numbers of schooling mackerel, though with the stirred up conditions anglers did not find much with these lively bait fish. There were limited supplies of caballito, ballyhoo and slabs of squid also available.

No particular species of fish was very active at all this week, even the triggerfish were not eager to eat. Yellowfin tuna were still hanging around the Iman Bank, but not many were landed, these grounds were practically unreachable for several days and the hungry sea lions were more aggressive than ever. The tuna that were landed ranged up to 25-pounds, striking on strips of squid. A handful of yellowfin also were taken from other areas. Dorado became even scarcer than they had been, the few that were accoutered for were in the 10-pound range.

Striped marlin action slowed compared to last week, though these billfish are still being found in varying numbers throughout the region. The ocean clarity is still good and these marlin do not mind cooler currents, they just need to have their steady food supply.

Wahoo became more finicky with cooling waters, also the word was now out, as to where most of these wahoo were hanging out off of Punta Gorda and the pressure was heavier on these grounds. Too many spear fishermen these days, not easy to fish where there are also people spear fishing. Many of the wahoo they hit with spears end up ripping free, only to die of their injuries and this makes the entire school of wahoo even that much spookier. The large needlefish have returned in force, striking on trolled baits and making a mess of things as they like to do.

Bottom action was showing improvement last week, before this latest blow, maybe cooling waters will get some yellowtail action going. Inshore there were some sierra caught, trolling baits and lures, hard to really get these fish going without the sardinas available.. …Eric Brictson, Gordo Banks …Eric Brictson, Gordo Banks Pangas.

Los Cabos
Today, January 31, 2016, Jaime Gonzalez on his panga, Jessica. Fishing live bait at the Lighthouse and for those of you who don't know where that is, if you're leaving the Cabo Marina and you make a right turn just past the famous Arch, the lighthouse is just 3 to 4 miles up the coast on the Pacific side. Jaime found a boiling school of tuna one mile offshore and pitched a live bait into the boil. It was an instant hookup and after a 5-hour fight into the night, the tuna came to the boat. At the scales, the tuna weighed 257 pounds.

Jaime said he saw dozens of 200+ pound tuna in the school. …Thomas

http://www.bdoutdoors.com/forums/threads/big-really-big-tuna-in-cabo.617347/

Well, the catching has really fallen off this past week and there is no apparent reason. The moon phase has improved considerably and darkened and there is lots of feed biomass, (mackerel and sardines) between Pedregal and Cabo Falso, just around the corner from the Arch and in legal fishing waters. All of the billfish caught were on the drift over the schools of bait . . . and the big snapper were also caught there.

Cabo Climate: Air temps varied from 58 nights to 81 daytime highs and a 55% humidity level average. Mostly sunny days with a couple of days of sun-cloud mixes.

Sea Conditions: A couple of windy and rough days limiting the areas that could be fished. The Pacific side and out to about 20 miles or so was at the 73 degree mark. Beyond 20 miles the temps increased to 76 degrees. Cabo to Gorda Banks and about 10 miles north of the banks, the temps varied from 74 to 75 degrees. Farther north to Los Frailes, the temps fell to 72 or 73 degrees. Surface breezes flowing mostly from the westerly direction varied from calmer mornings to about 12 mph.

Best Fishing Area: Between Pedregal and Cabo Falso drifting live baits deep.

Best Bait, Lures: Live baits were working well for the billfish and even attracted the bigger red snapper.

Bait Supply: Good supply of caballito and mackerel were also available at the fishing grounds. …Larry Edwards, Cortez Charters
Fun day on the beach with Rich Lirtzman. It was 31 degrees at 6 a.m. -- in Baja that's nuts! Warmed up quickly as the sun came up; Rich caught a super rooster on the fly and we caught multi-level jacks and other species...Baja Anglers
Winter sierra in Cabo! Great tasting and super fun to catch! ...Cabo Surfcasters
Full moon on January 25, 2016, for the first of the year which interfered with the billfish bite and the dorado action, although it should get better and better as the moon phase gets darker and darker. Most of the tuna taken are in the school-fish sizes and are not at all eager to bite which can be attributed to the full moon and the tuna seiners setting up on the schools of porpoise-tuna schools, keeping both pretty nervous. There seems to be plenty of tuna on location in several areas but there is also too many purse seiners in the area right now making the rod and reel catches much more difficult.

Cabo Climate: Cooler mornings have arrived and the temps have varied from 57 nights to 78 daytime highs with a 55% humidity average . . . a mostly sunny week with a few partly cloudy days.

Sea Conditions: The Pacific side is cooling down. A few spots remain at 76 degrees but for the most part it is holding at 74, including the Golden Gate down to the Jaime Bank and around the corner from Cabo San Lucas to Chileno. Palmilla Point and heading into the Sea of Cortez holding at 75 to 76 degrees. Surface breezes flowing mostly from the westerly directions and ranged from nearly calm mornings to 13 mph.

Best Fishing Area: The Herradura and Cabo Falso area are best for billfish and scattered yellowfin tuna.

Best Bait/Lure: Live bait used on the drift worked best for the marlin. Tuna were biting on the feathers and a myriad of bright colored artificial. …Larry Edwards, Cortez Charters