1 fish = 2 million dollars @ Bisbee Black and Blue
Que Pasa
It wasn't the biggest marlin Julio Fernandez has ever caught. And it wasn't the hardest fighting fish, either. But the black marlin he landed Thursday morning in the 2016 Bisbee's Black & Blue Marlin Jackpot Tournament will be the most memorable, without a doubt. Catching a fish worth close to $2 million dollars tends to stand out, regardless.
After a fight lasting about one hour, Fernandez and his veteran team aboard Quitena boated the 534-pound black marlin with Captain Rich Hamilton at the helm. The team is entered across the board in all optional categories except the Chupacabra Challenge. So with no qualifying fish the first day, the jackpots roll over, earning Quitena the biggest score yet for the 2016 contest. But earlier in the day, that didn't look to be the case.
Past big money winner Chip Wagner, fishing aboard Bob Patton's Viking, Fastball, wound in a qualifying 304-pound blue and made it to the scales not long after they opened. Because the boat was entered in the optional Chupacabra Division, that fish would have earned approximately $2.3 million if it was the sole daily qualifier. With Quitena's fish, however, it will only take two day's worth of prize money in that optional $20,000 division. A $320,000 payout is still a nice day on the water.

"We were in the salon when we got a knockdown," Wagner explained after the fish was weighed. "I jumped in the chair and put that 130 to work. The fish ripped off a bunch of line and got tail-wrapped but we got it in. It's all good right now, real good."

"Because it was tail-wrapped we didn't have to gaff it, so that probably saved us a couple pounds," Patton added. Patton is part of the Guggenheim Baseball Management Group that owns the Los Angeles Dodgers, which are currently playing in the National League Championship Series against the Chicago Cubs. The Dodgers lost 10-2 Wednesday night.

"This is definitely a team effort," Patton said. "I wish my baseball team had won last night, but they'll have to take care of business themselves. You can see where my priorities are."

Angler Gilles Asunsolo and his Mexico City family and buddy team aboard Drakkar, a 65 Hatteras, boated the other qualifying fish on Thursday. The 349-pound blue was hooked on the Pacific side and landed after a 40-minute fight. Drakkar's fish was fooled by a pink/silver Braid plunger lure.

Flora T II, Strictly Business and BajaMark all weighed marlin on Thursday, yet none met the 300-pound minimum. The teams earn negative points as a result.

Last year's big winner, Tranquilo, continues to pull away from the pack in the release division. The Costa Rican team has 2,100 points, followed by El Suertudo with 1,200. Five boats are tied with 900 points based on time.

The final day of the 2016 Black & Blue kicks off Friday morning at 8 a.m. Is there another jackpot marlin swimming around out there? We shall see. Julio & Company already found theirs…Captain Dave Lear
Coronado Islands
Went to the North Island and slow-trolled sardines . . . seals were on us in five minutes; hit middle grounds and got a few bonito! Tried the Ribbon Kelp for a bit and got nothing. Made a stop at the Whistler Buoy and scored some nice rockfish…Fishdope.com

Ensenada
Reel Adventure reported over 14 yellowtail weighing from 7- to 10-pounds, mostly at San Miguel Reef -- nice fish and decent weather until the wind kicked up and ended the day. We also caught bonito and barracuda around the same area -- similar weight…Coral Marine

San Quintín
Report pending.
Bahia de Los Angeles
We had heard that toro (jack crevalle), were in the bay feeding on the bait the two previous days -- so on Friday, our first day out, we saw them crashing all around us -- 40- to 50-pound fish every cast on anything thrown at them. Too bad they aren't good for eating because they were fun to catch! …RG

http://www.bdoutdoors.com/forums/threads/la-bay.640861/
Cedros Island
Lobster fishing for the locals has been very poor thus far at the Island . . . numbers are way down. Yellowtail fishing has been slow, mostly due to poor weather. Lots of wind made accessing the better zones difficult.
White seabass were around on the offshore high spot but wind has kept the boats from getting out there.
Calico bass fishing is good for smaller fish (to 4 pounds); lots of numbers though on metal spoons and plastics fished a little deeper. Halibut fishing along the shore has improved with several in the 10-pound class caught. Juvenile white seabass are also along the shore.

The shrimp boats from the Baja coast have been out by the Island, scoring good catches of medium- to jumbo-size shrimp. …Jeff Mariani, Cedros Tackle
Bahía Ascensión
Our guests were happy to get limits of nice-size yellowtail yesterday, not to mention the plate of sashimi and seared fish they gorfed down! I am preparing the bonito for smokin'. …Shari Bondy

La Bocana
Been having an absolute blast in La Bocana! Great friends, great food, and of course great fishing! First night was at Les and Blanca's and an incredible feast at Joaquin's. Bumped into Joaquin at the store as we arrived and it was game on! Next day a cabin became available on the beach by the pangas. Then to Joquin's again for a magnificent lobster and steak dinner and really good times with a crew of familiar faces who rolled in from San Quintin! Yesterday we fished with Domingo. Had a wide open dorado bite for the better part of an hour! Mostly smaller but a helluva' lot of fun! We managed to get three yellowfin tuna as well. A very big thanks to Les, Juanchys Aguilar, Domingo, and especially Juoquin for everything and making La Bocana one of my favorite places ever! Mucho take it easy! …JP Hegemeyer

Loreto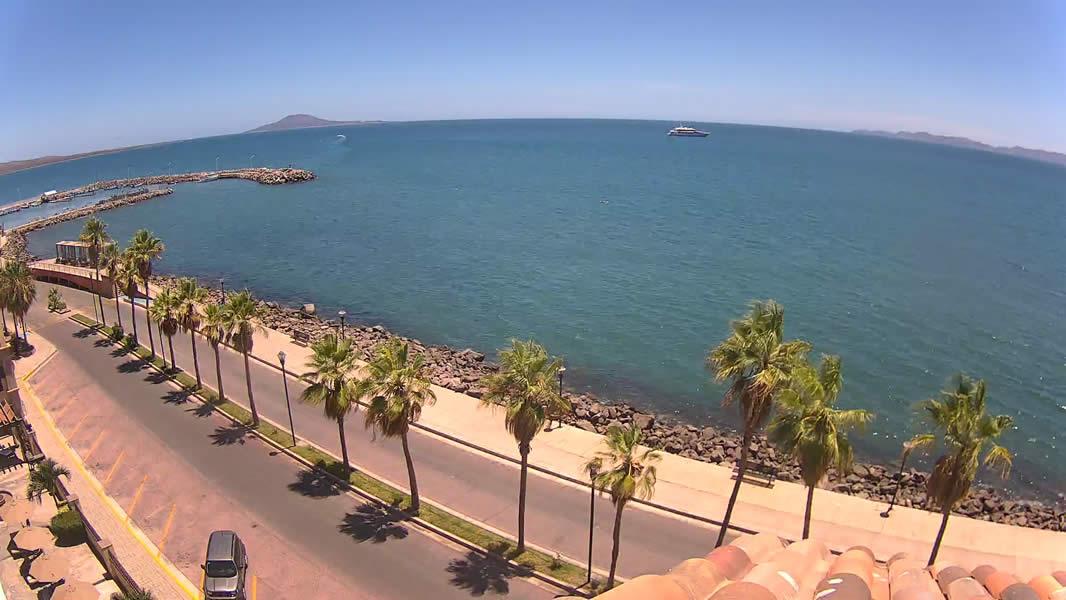 A sample of the "usual suspects" rounded up out off Carmen Island's "50 spot". Four shifty characters, two from Oregon and the others from nearby! Baqueta, hauchunango with an assortment of pintos and whitefish at the bottom of the fishbox. They lost two yellowtail that pulled "like freight trains" in the rocks.

We have settled in to fishing for all the "usual characters" plus a few bonus fish that are still popping up in the fish count. The last two days have been hampered by an early visit from the January north winds. Been "kinda bumpy" and with the "super tides" the current has been a challenge. The go to place has still been the rock piles, a.k.a. "50 spot" with some baqueta and big huachinango. Yellowtail are mixed in with one weighing in at 28 pounds!

Move one hundred yards at the "50" and you will be pulling up whitefish and pinto bass. It's a little like pitching ping pong balls at the carnival, you might be aiming for the big prize but there is no sure thing! Captain"Tony" and captain"Tito" have been working that spot and finishing the day's trip near Balandra for a pop at roosterfish and a few nice sized dorado.

The quest for wahoo by the Puerto Escondido private boaters has been a hit and miss affair. Round trip to the wahoo zone at Catalana closes in at 100 miles and the lucky catches all happen as the sun comes up. So far the biggest catch has been 35 pounds and the most caught on one boat has been 3. Not for the faint of heart for not all the boats come back with 'hoos!

Live bait has been bouncing back and forth from mackerel to jurelitos depending on the moon. The full moon means jurelitos with a cast net at the marina. Speaking of the cast nets, still no sardinas all this year!…Rick Hill, Pinchy Sportfishing

Magdalena Bay
Lopez Mateos: The northern entrance to Mag Bay is holding some good shoreline fishing for 12- to 30-pound Pacific black snook! Private yachts outside are chasing the marlin on the Ridge and outside Santa Maria's outer shelf.

http://www.bdoutdoors.com/forums/th...-for-mark-and-gary-with-captain-chico.640759/

La Paz
Report pending. … Jonathan Roldan, Tailhunter International
East Cape
The AJTV crew filmed an all-new episode recently in the East Cape region of Baja California Sur, Mexico. We went to check out an awesome new resort, marina and real estate development named Costa Palmas currently being built about 45 miles north of the Cabo San Lucas Airport, near the town of La Ribera. The marina will be the only such facility between Cabo and La Paz, and will feature a brand new Four Seasons Resort Hotel. We fished with Capt. Tim Eck aboard the beautiful 52-foot Cabo "Free 2 Play," and he put us on yellowfin tuna, dorado, Pacific sailfish, and even a blue marlin. The fishing in the Sea of Cortez proved to be amazing and this will be another great show, coming soon to the Destination America network! ... John Brownlee
The fishing today was very good on the East Cape out of Hotel Palmas de Cortez. All the boats got into the tuna which were in the 15- to 40-pound range. On Saturday, the Finatic got into a couple of nice tuna, one weighed 110-pounds and the other was 129-pounds, so there are some big boys out there. …Van Wormer Resorts


http://www.bdoutdoors.com/forums/threads/east-cape-fishing-report.640811/
Plenty of good quality tuna were taken all week. There are pockets of fish found all over. The shelf off La Ribera produced a few fish as did El Rincon. The most active bite was farther south including various places from Los Frailes to San Luis including El Farito. The Aiman Bank also produced fish. It's a 100% squid bite at the moment. Fish were bigger than last week with some in the 100-pound class. …Gary Barnes Webb

http://www.bdoutdoors.com/forums/threads/a-fish-fulfilling-october-so-far.640722/

Report pending. …Hotel Buena Vista Beach Resort

San José del Cabo
Last Sunday a group of local San Jose del Cabo anglers fishing from a 22 ft. panga "Mako" hooked into a blue marlin while trolling a guacamaya patterned lure outside of the Cardon area that weighed in at a whopping 707 lbs. They landed the big blue on 100 lb. class tackle after a two hour battle, proved to be quite an event at the dock area for the weigh in, with this coinciding with the traditional Sunday beach crowds.

Another very impressive catch was accounted for on Thursday, angler Mike Mahoney, from San Leandro, Ca., teamed up with skipper Chame Pino on the super panga "Killer II" to land a 310 lb. yellowfin tuna off of the Gordo Banks, they were trolling a live skipjack for bait, the tuna took three and a half hour to bring to gaff. This fish weighed exactly the same as the previous largest yellowfin that Mahoney had landed some ten years ago with the same skipper.

Fleets are very busy now, most charters are fishing on the grounds from the Gordo Banks to Vinorama. The action had shifted more in the direction of Vinorama, full moon also seemed to have some impact, with the tuna bite becoming more finicky from day to day, some days early, some days late. Average size yellowfin being caught are in the 15 to 35 lb. class, but obviously there are some much larger fish in the area. Early in the week some charters encountered porpoise off of the San Jose del Cabo region and there were large concentrations of yellowfin tuna traveling with these mammals. The porpoise were traveling quickly, so the key was to get in front of them and drop down strips of squid, then repeat the process over and over, fast pace fishing, but also very productive for tuna in the 20 to 30 lb. class. This type of action can be there one day and gone the next, but has held up for about four days so far, moving in different directions daily.

Wahoo were starting to become more active, as they usually do this time of year. Best areas were from San Luis to Vinorama, slow trolling with trap hooked chihuil has been the best technique for enticing strikes, though these baits are not easy to obtain. A few fish were striking on trolled Rapalas as well. The wahoo landed ranged in sizes up to 50 lb. Lots of these fish are on the local fishing rounds now, so we are optimistic for a great season to develop on these sought after gamefish.

Dorado continue to be very limited, though we have seen a few more nicer sized specimens, bulls up to 30 lb. were brought in, no particular spot, scattered form offshore to inshore, most were taken on trolled lures, others on the same striped squid being targeting for tuna.

No inshore action to report beside a few roosterfish, jack crevalle and at least one snook, caught by shore anglers in the vicinity of the marina jetties…Eric Brictson, Gordo Banks Pangas

Los Cabos
Bisbee Los Cabos Offshore Report:

—First Place went to Wild Hooker, a beautiful 62-foot Blackwell, with angler Rick Daab landing the win with a 450-pound black marlin (pictured here).

—Second Place went to Go Naked, with a 391-pound blue marlin.

—Third Place went to Nice Ride, with a 366-pound blue marlin.

—Top Release boat was Sea Angel with 1300 points.

—Top Tuna went to North Star, with a 224-pound yellowfin. Although a larger 283-pound tuna did come to the scale, it is unclear at this point whether the fish was disqualified, or if the scoreboard hadn't been updated by the time we published this report.

—Top Dorado prize went to Sea Fever, with a 32.4-pound fish.

The Bisbee Los Cabos Offshore tournament came to a close with $773,000 given away in prize money. It took place this weekend October 15 and 16 with a field of 108 teams. This two-day event always takes place the weekend before its larger sister event -the Bisbee Black and Blue – and is known as the "little Bisbee" to many an angler, although it can hardly be called that much longer. For some, this is a good alternative to the larger tournament, as the entry fees are less than for the Black and Blue event. There have been increasing numbers of boats entering and the purses are getting bigger each year. With alternative categories to billfish, such as dorado and tuna, there are higher odds of placing in the Bisbee Los Cabos Offshore.

Similarly, the Pisces 31-foot Rebecca wasn't participating in the event, but Captain JR Alucano managed to put our clients on some impressive billfish action yesterday. They caught and released four blue marlin (the largest was around 400 pounds), as well as two striped marlin; those kinds of catches would have translated into big bucks had they been in the tournament. It was also nice to see our boat, the Pisces 31-foot Tracy Ann come to the scale in the tournament last night with a very respectable 171-pound yellowfin tuna; unfortunately it didn't net them any prizes, but was a very nice catch for any angler, in or out of a competition.

On another interesting note, the Pangalisa, winner of the Los Cabos Billfish Tournament a few days ago, brought in another qualifying fish to the scale for this event -- a 311-pound black marlin. Although it didn't make it into the top three spots for the Bisbee Offshore, it is nevertheless a great achievement for their crew. …Pisces Sportfishing
,
There has certainly been a good bite on the YFTs! Some nice ones have been weighed and the larger ones are in the 300-pound range. The Golden Gate Bank has started producing and the boys are getting them with a live bait kite, downrigger, and on the soak. …Casey Carter

http://www.bdoutdoors.com/forums/threads/picudo-sportfishing-cabo-san-lucas-report.640836/