La Pesca Baja a success in San Quintin
Que Pasa
I'm playing hooky on the Osborne Bank! Hope they bite

Easiest Way to Travel to Baja for Fishing:

http://www.bdoutdoors.com/forums/threads/easiest-way-to-travel-to-baja-for-fishing.635434/


Most restrictions on flights between the U.S. and Mexico are being lifted, a change expected to bring more options and possibly lower prices for travelers.

American, Delta and Southwest have already announced that they will offer new flights across the border later this year. United is watching the demand for flights and will respond accordingly, a spokesman said.

The United States and Mexico agreed in December to open their aviation markets to each other's carriers. Rules that had generally limited two or three airlines from each country to a particular route will go away.

"Airlines on both sides of the border will be able to fly whatever routes they want as often as they want and set their own prices," said Thomas Engle, the State Department's deputy assistant secretary for transportation.


"This will help reduce airfares for sure," said George Hobica, founder of the travel site airfarewatchdog.com.


Hobica said base fares between the U.S. and many destinations in Mexico are already low, but both countries impose taxes that inflate the price of a ticket. "The fares are low; it's the rest that's added that makes it seem expensive," he said.

For example, on a round trip between Dallas/Fort Worth and Cancun, Mexico — already a popular route — taxes and fees can account for between 20 and 30 percent of the price of a bargain, economy-class ticket of $383 to $585.


Southwest promoted fares as low as $258 for a round trip, although seats were limited and the offer was scheduled to end Sunday.

The agreement between the U.S. and Mexico does not relax limits on takeoffs and landings at Mexico City's busy main international airport. So the first new flights from U.S. carriers will focus on resort towns in Mexico.

Delta Air Lines, Inc. announced Friday that on Dec. 17 it will start daily nonstop flights between New York's Kennedy airport and Cancun and between Los Angeles and Los Cabos. It will run Saturday flights between Kansas City and Cancun.


Southwest Airlines Co. announced that on Dec. 4 it will start flying daily from Los Angeles to Cancun, Los Cabos and Puerto Vallarta. Southwest plans to fly from Oakland, California, to Los Cabos and Puerto Vallarta starting in February if it gets approval from the Mexican government.

American Airlines Group, Inc. will begin flying between Miami and Merida on the Yucatan peninsula on Nov. 4 and from Los Angeles to Cancun and Puerto Vallarta on Dec. 15, a spokesman said.

Engle, the State Department official, said in an interview that the agreement should help American travelers and increase Mexican tourism to the United States.

"We think it will help drive economic growth in sectors well beyond aviation, including tourism and manufacturing," he said.
Coronado Islands

Water is still on the dirty side and chilly, running at about 67 to 68 degrees.
There are yellowtail along the weather side of North Island and there are also yellowtail in the Middle Grounds and the Gun Site. At South Island there are yellows and some bonito showing at the Lighthouse Kelp, South Kelp and at SKR.

Private boaters doing the slow troll thing seem to be doing well, plus it allows you to use heavy 40- to 60-pound test so you can horse them in quickly. This is very important at North Island as the sea lions are horrible.
Some of the ¾-day boats are not fishing the Islands right now and are outside fishing yellowfin at the 302 instead. …Fishdope.com
Ensenada
Report pending.
Colonet

For the boats making the long run, the yellowtail action is very good right now. 95% of the bite is on the yoyo iron with some coming up and biting the sardine or mackerel fished on 25 to 40 pound and a ¾-ounce sliding sinker. …Fishdope.com
San Quintín
Cliff Vine, fishing with Captain Juan, dominates surface category in the La Pesca Baja Tournament with a 53.8-pound white seabass.

http://www.bdoutdoors.com/forums/threads/mr-cliff-vine-wins-sq-tourny.635546/
Richard Elizondo -- largest ling cod 12.7-pounds.

San Quintin attendance 162 anglers and 45 boats. Ensenada is next on the 23rd and 24th of September.
Full speed on the yellowtail -- 15- to 23-pounds with the bigger models finding reef. John Cote and friends of San Diego put 10 out of 20 on board; others weren't so lucky. Captain Oscar's crew got the hookups but couldn't keep'em off the reef. They managed to put a few in the boat....Captain Kelly

Note: Since the SD Long Range fleet has left these spots alone, the fishing at the highspots has been great for the whole fleet here.
Bahia de Los Angeles
Report pending.
Cedros Island
Report pending.
Bahía Ascensión
Captain Juan Arce Marron reports a wide-open yellowtail bite of fish in the 20- to 40-pound range all over the area around Bahia Asuncion. They also caught limits of big calico bass and white fish. Lots of halibut from shore and spearfishing as well. …Shari Bondy

La Bocana
We had a tournament here in Bocana on 8/20/16 and we had more wahoo and jacks; yesterday there were wahoo. Fishing early for wahoo. …Juanchy's Aguilar
Loreto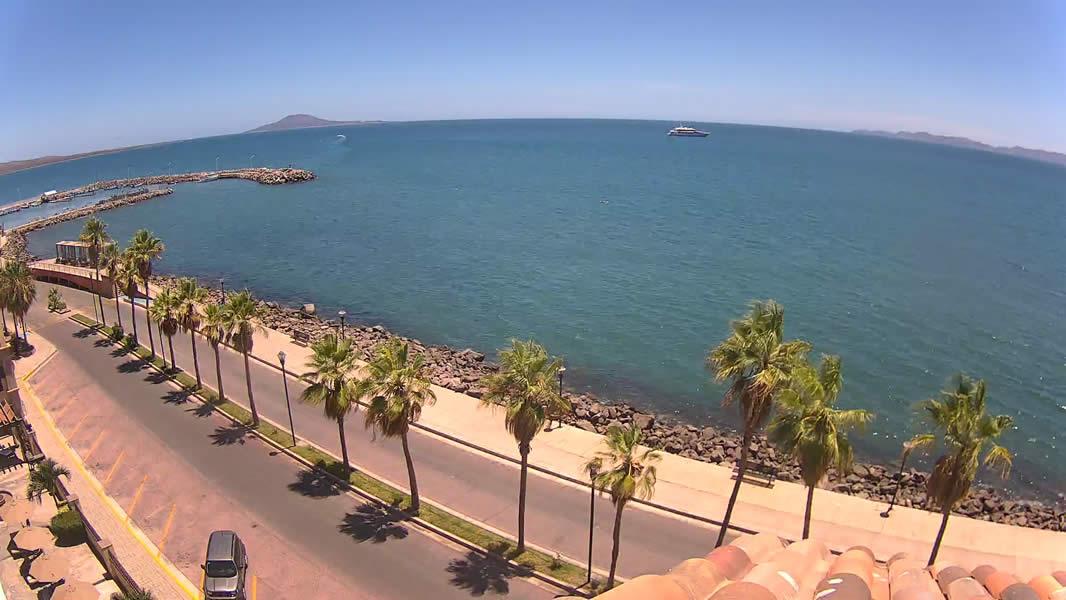 The big news of the week is the new building project at the marina is completed and ready for some politicos to cut a ribbon or break a champagne bottle!

The new building is at the edge of the boat ramp and has office space for API ( a government department responsible for the marina along with other ports throughout the state ).

The port captain will have an office there too along with their existing facility nearby.

I think the best part is there are bathrooms for visitors and gates to close off during the hurricane alerts

The fishing scene remains to focus around our year round bottom fishing and that remains fairly consistent.

Half the daily trips are making the ride up to Puerto Almeja for a shot at the 12 to 16 pound yellowtail.
Grab up the live bait at the marina early and settle in for the 1 1/2 hour ride to Almeja.

About ten days ago we had luck on grouper out near Catalana Island and this week they are mixed in the catch from up north.

Broomtail grouper to 25 pounds have been hitting the live mackerel at the high spots south of Pulpito

Mackerel seem to be the preferred live bait by both yellowtail and grouper(cabrilla, too).... The "jurelitos" are getting bit too, just not as often.

All this is happening up north leaving few boats to work over the Punta Lobo area as had been happening for many weeks.

The tiny dorado and all the roosters are getting ignored which is good news for the future generations…Rick Hill, Pinchy Sportfishing
Magdalena Bay
There is a lot of bait in the area and many marlin feeding on it. I saw tailers and jumpers and schools slashing bait balls. I didn't target them but caught one that hit a wahoo lure trolled 12+ knots. There are also yellowfin tuna. …Bill Erhardt

http://www.bdoutdoors.com/forums/threads/mag-bay-report-august-23-2016.635785/
La Paz
PHOTO

Report pending…Jonathan Roldan, Tailhunter International
East Cape
Fishing in the East Cape area has been very good for the most part the last two weeks. Some days have been better than others, but the good news is that everything is down here right now. Yes, even the dorado have made an appearance. We are finally landing dorado over 20l pounds and it looks like they will be in the area for the rest of the summer and into the fall. Dorado reports to the north mean that we should see them moving through the East Cape for the next few months. …Van Wormer
The big news of the week has been the arrival of dorado in excellent numbers. Reports are that there are tons of dorado up north and they will likely be moving our way as the water up north cools. Hopefully, good fall dorado fishing awaits. …Gary Barnes Webb

http://www.bdoutdoors.com/forums/threads/its-all-happening-here-on-the-east-cape.635519/
However, Matt Kirschner, Salem, Oregon, found a 45-pound yellowfin while fishing with Captain Vincente aboard the Dottie B ll.

Ugh-ugh-ugly weather as Tropical Storm Kay is swinging by about 400 miles away, leaving hot, humid conditions and a few showers over the past three days on the East Cape. Temps remain at 74 to 89 degrees and the gentle showers are always welcome. …Hotel Buena Vista Beach Resort
San José del Cabo
Light crowds of tourists visiting at this time, weather patterns continue to be very tropical, hot and humid, chances of thundershowers forecast throughout the week, though we did not see much rainfall, except on Tuesday afternoon, when a major electrical storm passed through the area, vicious thunder and lightning strikes, which left most of the region without power for a couple of hours, two inches or more of rain fell in a matter of 30 minutes, then skies cleared back up just like that. The latest Tropical Strom Lester is far off to the west, having no impact on land, though the ocean swell did pick up some, as we saw surf over two meters high pounding the shoreline. Winds have been light for the most part and just this morning we felt that slight hint of fall season in the air, as early morning was slightly cooler than it has been for the past couple of months. Water temperature is ranging from 80 to 85 degrees, coolest area right close to shore off of Cabo San Lucas.

Anglers have been using strips of squid and live caballito for bait, also some skipjack and bolito being caught on the fishing grounds and being rigged for larger gamefish baits as well. The Gordo Banks have been producing some of the larger fish as usual, though numbers of actually fish landed from these grounds are low, a handful of black marlin hook ups, one yellowfin tuna caught by a local pangueros estimated at 280 lb. earlier in the week, another later in the week at 130 lb. Lots of sharks again biting on these same banks. Anglers used larger whole baits or drift fished with strips of squid. Clean blue water, lots of natural food source as well, stronger than usual currents running, these can be factors why the bite is not what we would expect for this time of year, of course this can change, just as fast as the weather can.

The action around the Iman Bank has been a bit more productive and chance at more variety. This is where anglers are hooking into some yellowfin tuna that have been averaging 20 to 40 lb., most of these have come on strips of squid, again no numbers, anglers lucky to land one or two of these tuna.

A handful of dorado are being caught, but not in any quantity, most of these fish have not been larger than 15 lb. Striking on trolled lures and various baits, no particular location, scattered throughout the area. Very few reports of wahoo that we heard of, they can become more dormant when water temperatures reach the mid-80s. Not much bottom action found this past week either, more triggerfish than anything else, swift current makes it hard to effectively fish the structure. We did hear of one 80 lb. class amberjack, when currents slack we do expect to see more options off the bottom, time of year we can see some quality grouper and dogtooth snapper.

Not much inshore action now, more jack crevalle than anything else. Surf conditions are up now, This scatters baitfish schools, normal pattern for late August …Eric Brictson, Gordo Banks Pangas
Los Cabos
175lb yellowfin tuna caught on board the Pisces Valerie, for this group of anglers from Georgia.

The billfish counts continue to be just so-so for this time of year and the catch ratio continues to be in the upper 50% area. As the full moon phase dwindled the blue marlin action slowed up and only two were landed this past week and and was released.

Cabo Climate: The early part of the week started with a good rain for the area and changed to mostly sunny conditions as the week passed by. Daytime air temps averaged 89.8 degrees, night air averaged 75 degrees and the average humidity level was 69.85%.

Sea Conditions: Water temps varied from 84-86 on the Pacific side from the Finger Bank to Cabo Falso and as it rounded the corner varied from 81 degrees to 83 degrees from Cabo Falso to Los Frailes. Surface breezes flowing mostly from the south to southwest averaged 8.83 mph.

Best Fishing Area: The Herradura and Cabo Falso, (The Light House area).

Best Bait/Lure: Live bait is best for the billfish, especially for the billfish mixed in with the trolling patterns and sliding a live bait back while removing the rigged bait or lure he fish is trailing behind.

Live Bait Supply: Still a very good supply of live caballito at the $3.00 per bait rate…Larry Edwards Cortez Yacht Charters.