Que Pasa

Watch Out, California! El Niño does something it has never done before…

One of the most powerful El Niño's on record continues to gather strength and looks increasingly likely to bring heavy rains to key Northern California areas that provide water for the rest of the state, according to a new forecast.

http://www.dailykos.com/story/2015/...g-It-s-Never-Done-Before-Watch-Out-California

For the Baja 1000 fans this seems to be the best link for live updates.

http://irctracking.com/2015/Baja1000/
Coronado Islands

No report since the blow…www.fishdope.com

Ensenada
Report-11-12-15 2 day Tale of Tails!

http://www.bdoutdoors.com/forums/threads/rpt-11-12-15-2-day-salsapuedes-tale-of-tails.610937/

Salsipuedes and Todos Santos Island was a prolific trip for the "Reel Adventure" producing 11 yellowtail using the famous 6 X Salas lures – (left to right Bert Sabo , Wes Price & Alvin Mathis) -- weight of the fish was in the range of 18- to 25-pounds and the weather was great!

Also huge, a 60-pounds halibut and a few rockfish around 15-pounds and a monster black seabass at the Island over 40 pounds. …Edgar Sanchez, Coral Marine Store

San Quintín
I was there last weekend; excellent bottom fishing as always, wide open bonito on the surface and we caught all our yellows on the yo-yo. There were red crab in abundance! I caught mine on a red kicker -- the other one was caught on a red 6x Jr.

As always, bring plenty of weights. I was catching my rockfish on 150-gram lucanus jigs and the largest 250 gram flat falls. The other guys were double-dropping squid and macks and consistently pulling up reds, lings and combo red and lings on one line. …Moises

Bahia de Los Angeles
We fished in 300' of water and caught the biggest spotted bay bass we had ever seen! We caught about 8 fish and decided to try another spot; half our bait died so we dropper-looped in 400' and caught 2 YT in about the 30- to 40-pound class. ...Roger

http://www.bdoutdoors.com/forums/th...o-drop-off-baja-runner-to-martin-diaz.611322/

Bahia Ascension
Our amigos from Arizona, Dan and Jen, caught a mixed-bag today -- 9 fish/6 different species; they caught a big wahoo, 2 yellowfin tuna, skipjack, dorado, 2 nice yellowtail and a sierra. They were doubtful to catch anything as it was cloudy and rained a bit, too, but Captain Juan Arce got them on the fish! …Shari Bondy

Just back from Asunción … What a magical place. Danny Verrier and I stayed with Juan and Sheri at Blowhole. I had forgotten how beautiful that place is. Juan may be the best guide I've ever fished with and Sheri is a wonderful host. I would recommend both of them highly. We caught lots of fish, but the highlight for me was a good-sized wahoo -- my first in a lot of years.
We passed many racers getting ready for next weekend's race on the way back.
Getting through Tecate was a mess for all the road work, and the wait was about one-and-a-half-hours. …John Migeot

http://www.bdoutdoors.com/forums/threads/asuncion-and-wahoo.611160/
La Bocana
San Quintin's Captain Juan Vargas makes a run to La Bocana with excellent results.

http://www.bdoutdoors.com/forums/threads/la-bocana-11-9-16th.611601/
Loreto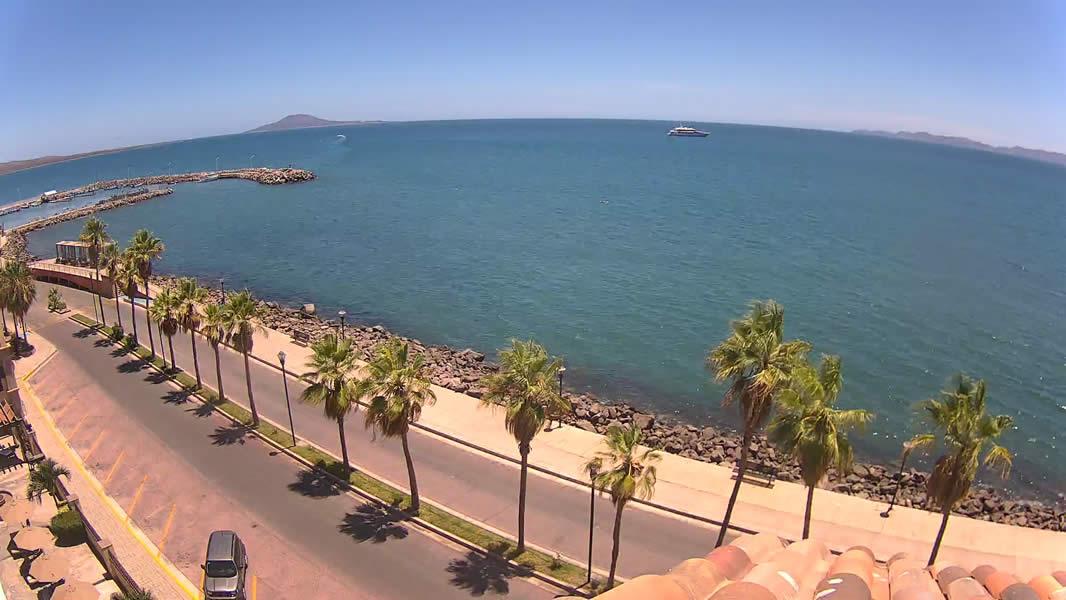 It looks like all of Baja is getting winter storm winds from up north!

Saturday was the best day of the whole week which slipped off to days of 35+ knot winds. Early morning half-day trips were the only comfortable shot to load up on bottom fish if you were lucky enough to pick the right day. Add to that the commercial bait-sellers have not been able to get out and catch bait, nor is there anyone lining up in the early hours to buy any. I didn't see the small bait receiver they use at the mouth of the harbor, yesterday. You can usually spot it and the pelicans that sit on top as we cruise by the waterfront. It might have been upset by the winds and on its way to La Paz!

Ed, "the Weatherman," Hoffman from Tripui/Escondido reports that two boats from his group fished Catalana Island on Saturday and scored 4 wahoo from 25- to 40-pounds. Also on the troll (with wahoo rigs) one rooster estimated at 40 pounds and a 31-pound grouper joined the party.

Catalana is a long ride and across some deep channels so only the hardiest and most competent seamen dare journey there this time of the year.
A little later in the season we will be seeing good action on yellowtail and big cabrilla in this same area. Ed is calling for this Tuesday to be a good day, the first in many days. I would bet that a few more boats from down south head out to the wahoo grounds.

For now, if you can get out to the close spots, bring frozen squid and jigging weapons. Triggerfish and pintos can fill the fish box before the wind gets roaring. ...Rick Hill, Pinchy Sportfishing

Magdalena Bay
Epic birthday bash with friends on the mighty Pacific at Magdalena Bay; Brad Ellis hoists a trophy-sized dorado while Joshua Martz puts the finishing touches on another – a big "up" to Captain Sergio Garcia for putting us on the fish -- as usual. Sight casting to lit up dorado and wahoo charging the boat is about as good as it gets. Sharing the experience with three good buddies made it even better. Thanks guys!
Back from a great time fishing Mag Bay on Tuna Machine where we nailed the wahoo pretty good each day with a few YFT. Big thx to Chris Jones of Fisherman's Fleet for his help and for hosting us at their home base on Mag Island! …Clarke Smith

We fished with Captain Ruben Duran. Best time to fish the esteros is at full moon when there is lots of water movement. …Captain Juan

http://www.bdoutdoors.com/forums/threads/magbay-with-mr-bob-baker.611373/
Captain Juan continues his Fall trip at Lopez Mateos, exploring Magdalena Island -- one of my favorite beaches in Baja.

http://www.bdoutdoors.com/forums/threads/bob-bakers-magbay-part-two.611395/
Here is my story MAGDALENA BAY REMAINS REMOTE by Gary Graham

La Paz
From Napa CA, Dan McPhee and his brother caught and released 5 big roosters between 40 and 50 pounds in two days of fishing in between strong winds. These were their first rooster fish and they both said the fish were "strong as hell" and "stronger than they expected. " At one point they had two fish on at the same time. Captain Victor from the Tailhunter Fleet helps with a thrashing tail so they can take the photo in the rough seas close to shore.

Love this photos of Bobby McPhee grimacing as he and Captain Victor try to get a photo of a heavy 50-pound rooster fish so they could release it. Bob is from Napa CA and he and his brother caught and released 5 big roosters between 40 and 50 pounds in two days fishing in between the strong winds that hit La Paz this past week. These were their first rooster fish. At one point, they had two fish on at the same time. …Jonathan Roldan, Tailhunter
East Cape
The weather in Baja is definitely on the change with cooler nights and breezier days. This past week on the East Cape, the north winds started to blow to the delight of the large kite board community and to the dismay of anglers. The Pacific Ocean and the Sea of Cortez off Cabo San Lucas, however, remained calm.
Earlier in the week, we were able to sneak out on the Scorpion for a flat day on the East Cape. The fishing was great. We scored sierras early, a nice dorado and a big striped marlin. Satisfied with our day, we headed in early. The rest of the week saw pretty strong winds which dampened our desire to go out despite the excellent fishing. …Scorpion Sportfishing and El Regalo Sportfishing

http://www.bdoutdoors.com/forums/th...egalo-fishing-report-november-15-2015.611185/
Sailfish caught from the beach …Jesus Zamora Rodriguez

We are truly nearing the end of the season . . . really quiet here with only a few boats going out. It's cooling down rapidly now; cool enough that some mornings many have been wearing hoodies!!! Rancho Leonero

http://www.bdoutdoors.com/forums/threads/fish-remain-as-north-winds-arrive.611166/

San Jose del Cabo
Action proved to be more spread out and less productive this past week, there were some quality fish caught, though numbers were down, no particular place was hot, wind was a major factor on the grounds from the Gordo Banks and to the north. Schools of yellowfin tuna up to 100 pounds were seen surfacing while traveling with porpoise, but conditions were not favorable for chasing these rapidly moving schools and not many of these tuna were landed. A handful of fish in the 40 to 80 pounds were striking on strips of squids, other on live chihuil. Still no resource for sardina, there have been caballito and ballyhoo available as other options. Perhaps cooling currents and less angling pressure will allow the sardina to move within our range, which would be a great bait to have at this time.

There was a 69 lb. wahoo landed out of La Playita, Puerto Los Cabos Marina, this trophy sized 'hoo hit on a live skipjack, was part of an explosive double hook up, which resulted in one nice wahoo landed and another one lost. Wahoo were spread out throughout the area, though better chances still seem to be north of Punta Gorda. Dorado action slowed was down, though these fish are still in the area, the majority of charters finding maybe one or two, or at least having a chance or two.

Billfish was spread out, though there did seem to be increased numbers of striped marlin in local waters now, also some sailfish and at least one blue was landed for the panga fleet out of Puerto Los Cabos. When the wind does reside there should be better opportunities found.

More sierra are moving in with the cooling waters, these smaller sized gamefish will provide bonus inshore action, especially when we start seeing schools of sardina move back into the region. …Eric Brictson, Gordo Banks Pangas.

Los Cabos
Leave it to BBC One to capture the most epic three-way struggle between a dolphin, frigate bird and the flying fish. This video captures over and over what I have only seen a couple times in real life.

http://www.bdoutdoors.com/why-me-said-the-flying-fish/
Early roosterfish show dazzles
http://www.bdoutdoors.com/tales-of-baja-alter-young-mans-life-path/

The billfish catching opportunities continue to be very positive, especially on the Pacific side of the peninsula. Catches are over a varied number of different "Hot Spots". Scattered about on the Pacific side of Cabo at all of the regular hot spots, including the Herradura, El Faro, Jaime Bank, Migrino and Pozo de Cota. Same report for the dorado.

This past week was a mixed week of partly cloudy and partly sunny days with temperatures that varied from 65 nights to 86 daytime highs and a 58% humidity level.

Varied surface breezes blew from the south to the west and ranged from calm mornings to an afternoon average of 9 mph. Sea temps are excellent and nearly identical on both sides of the peninsula at 82 on the Pacific side from the Finger Bank to Cabo San Lucas and 81 from Cabo San Lucas to Los Frailes.

Stripers occasionally biting artificials, both rigged and live baits, too. Dorado pretty eager on live bait drop backs when one fish is hooked up on an artificial.

Live bait was plentiful at the $3.00 per bait rate for the caballito.